Here is your weekly update on the Australian Dollar exchange rate. We have seen it recover in the last week after being lower for the last month or so. We'll discuss how it is performing against other major currencies, and we'll specifically look at how it is trending against the US Dollar. The AUD/USD exchange rate is often the most informative in terms of how the Aussie dollar is performing.
This article will cover:
Exchange rates
Average bank rates and margins
Aussie dollar trends
Australian Dollar forecasts
What it means for you
Video: Market Update for May 29th 2018
The information depicted in this video was correct on May 26th at 9am AEST.
Australian Dollar Exchange Rate
These are the exchange rates between the Australian Dollar and other major currencies. They were correct at 9am AEST 26.05.18.
Column 1 gives you the interbank or midmarket exchange rates at the moment. We have included the Aussie Dollar against; USD, EUR, GBP, JPY, NZD and IDR.
Column 2 gives you the average bank rates being offered for currency exchange or international money transfers. We have calculated these from the Big Four Banks in Australia; Westpac, NAB, ANZ and Commonwealth Bank.
Column 3 gives you the margin between the actual rate and what the banks are offering you. This margin is what gives you an idea of whether the rate you're being offered is "good" or "bad". Usually, a better rate and lower fees can be found when it comes to currency. Using a comparison table let's you find the best rate for both situations.

Australian Dollar Trends
Weekly
In the last week the Australian dollar didn't dropped below 75US cents for the first time in a while. The Aussie was given the chance to go back up following trade tensions out of the US, resulting in a weaker dollar for them.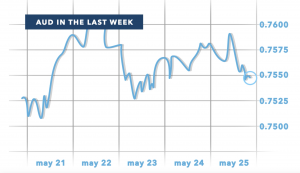 Yearly
Over the last 12 months the Australian dollar has recovered somewhat from it's low at the end of 2016. It peaked in September 2017 and got above 80US cents in January 2018. The Australian dollar is still a long way from this at this point in the year.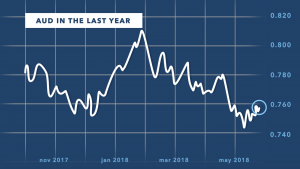 Australian Dollar Forecasts
By the middle of the year, most major banks are forecasting the Aussie to stay about the same against most major currencies, or to go up slightly. NAB forecast the Aussie to go down somewhat against the Japanese Yen (JPY). Click here to read more about forecasts for the Australian Dollar.

What does it all mean?
Having a stronger dollar is better for us when we're buying foreign currency, or transferring money from Australia overseas. Maybe it's time to escape the cold and book that summer getaway!
For weekly information and videos about the Australian dollar you can subscribe to our YouTube channel. We also review money transfer companies and make tutorials on exactly how to send money overseas.