How to Transfer Money with Wise: A Beginners Guide
Learn how to transfer money overseas with Wise (formerly known as TransferWise) in our detailed guide.
You can watch our 'How to' video or head to the step by step pictorial guide below.
How to transfer money overseas with Wise (formerly known as TransferWise)
Step 1: Wise
Once you've clicked through to the Wise website you'll be taken to their home page. From here you can get a direct quote for the transfer you want to make, login to your account or sign up. The Wise website is extremely user friendly and intuitive.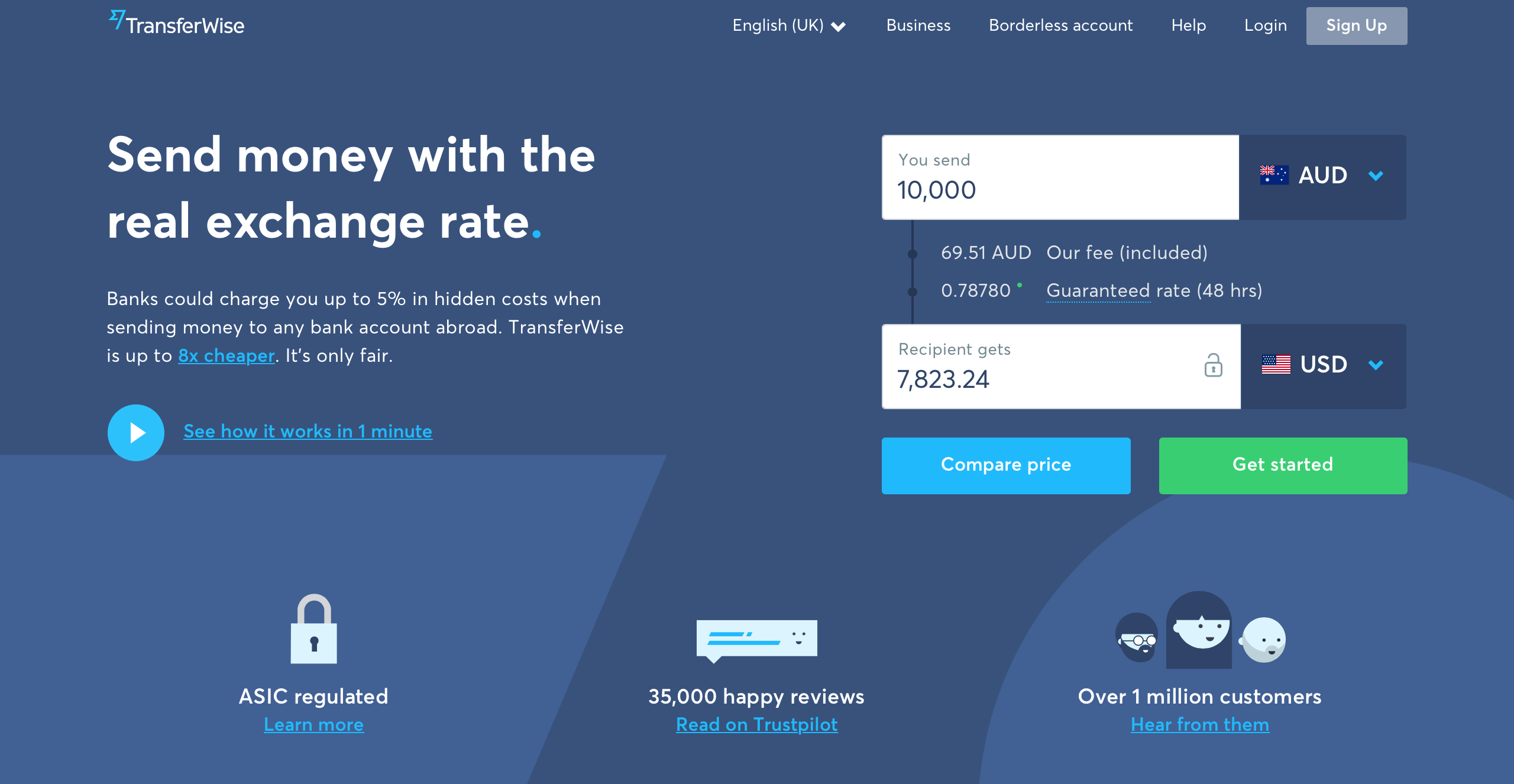 Step 2: Creating your account
The next page will allow you to start creating your account. You'll type in the email address you would like associated with the account, and create a secure password, which you will use to access the account in the future. You should create a password you don't use for anything else. Security is very important when it comes to transferring money internationally.
As we said, the Wise website is extremely intuitive and user-friendly. It's broken down into 5 simple steps for you to work through. The next steps correspond with you customising your transaction and your account. Firstly, you'll confirm the amount you're transferring and the currency you need to send. Then state what type of transaction you're making. That is, whether the transfer is for business or personal reasons.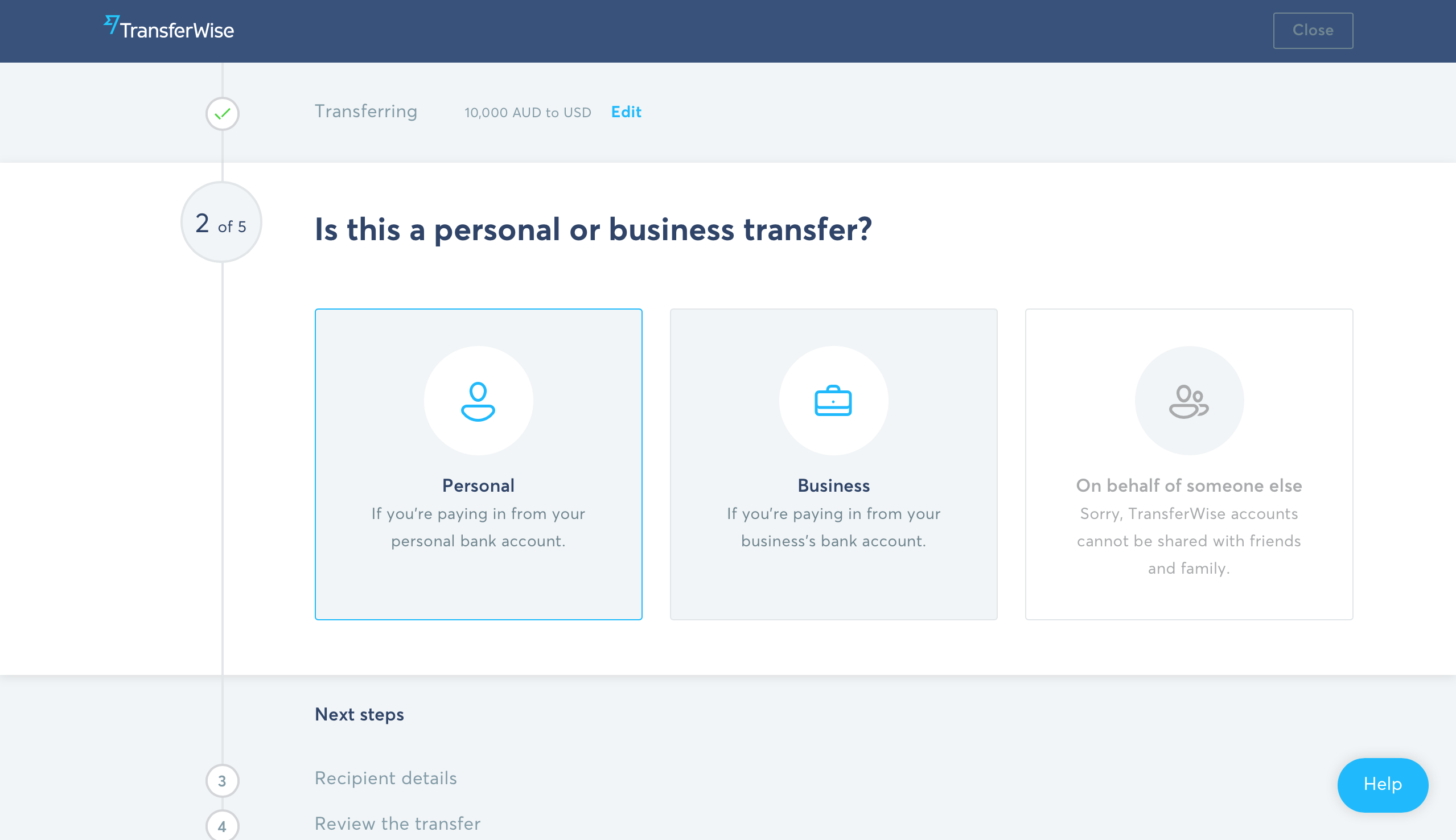 This is where you'll fill in the details about yourself. When it comes to international money transfers, you will need to provide substantial information about yourself to verify your identity. You'll need to provide your full name, date of birth, contact number and residential address. It's important that all of these details are correct as you may need to provide ID later and these details will need to match.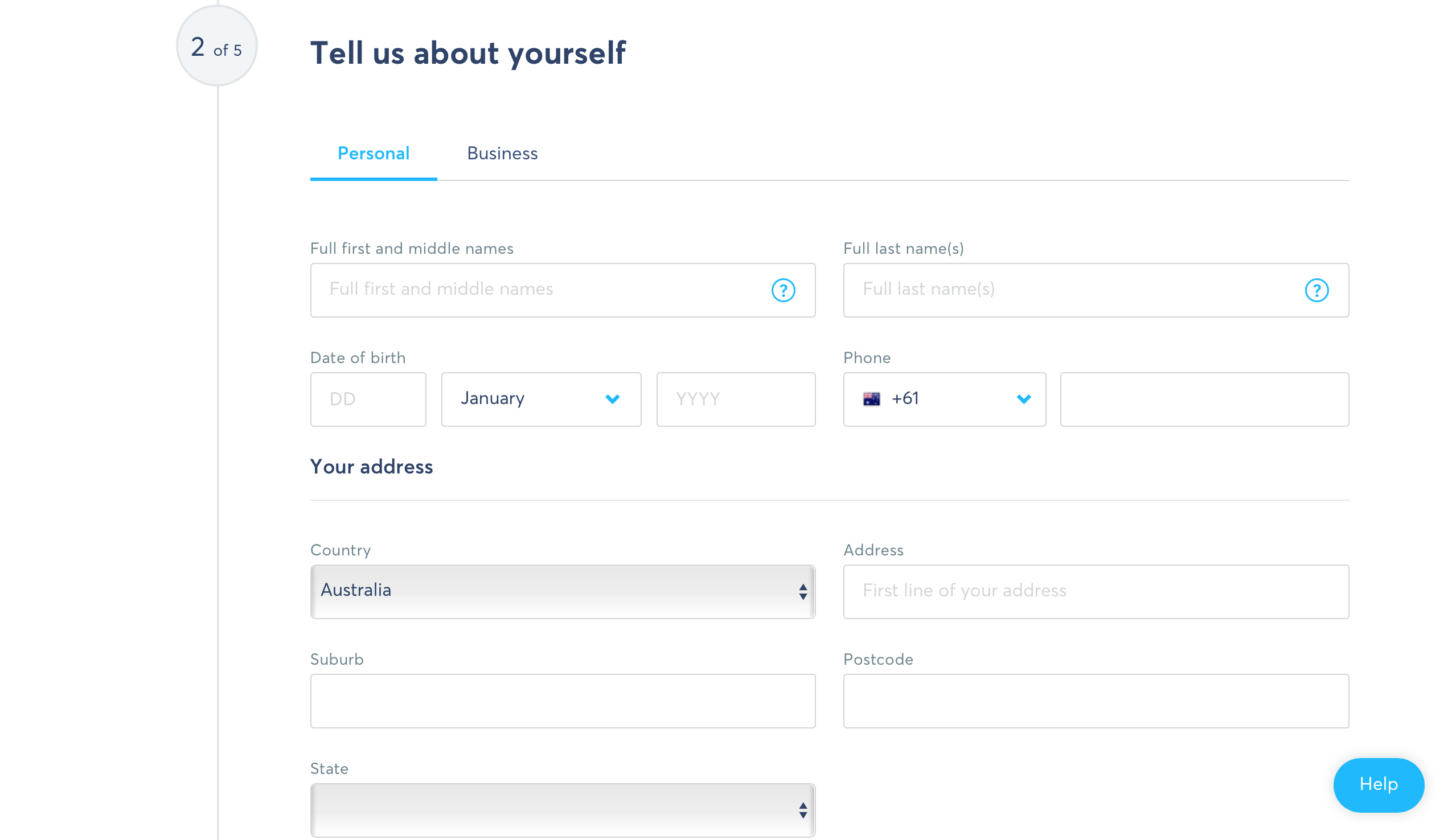 Who are you sending the money to? This next step is informing Wise who you're sending your money to, your recipient. You might be transferring it to your own international account or you could be sending it to someone else. Here you'll fill in the details of the recipient.
You'll then fill in the details of the account you're sending the money to. This can differ depending on where you're sending it. This example has us transferring to the US, so the routing number, account number and account type are required. Double check the details you're inputting are correct, it's very important that you're providing accurate information.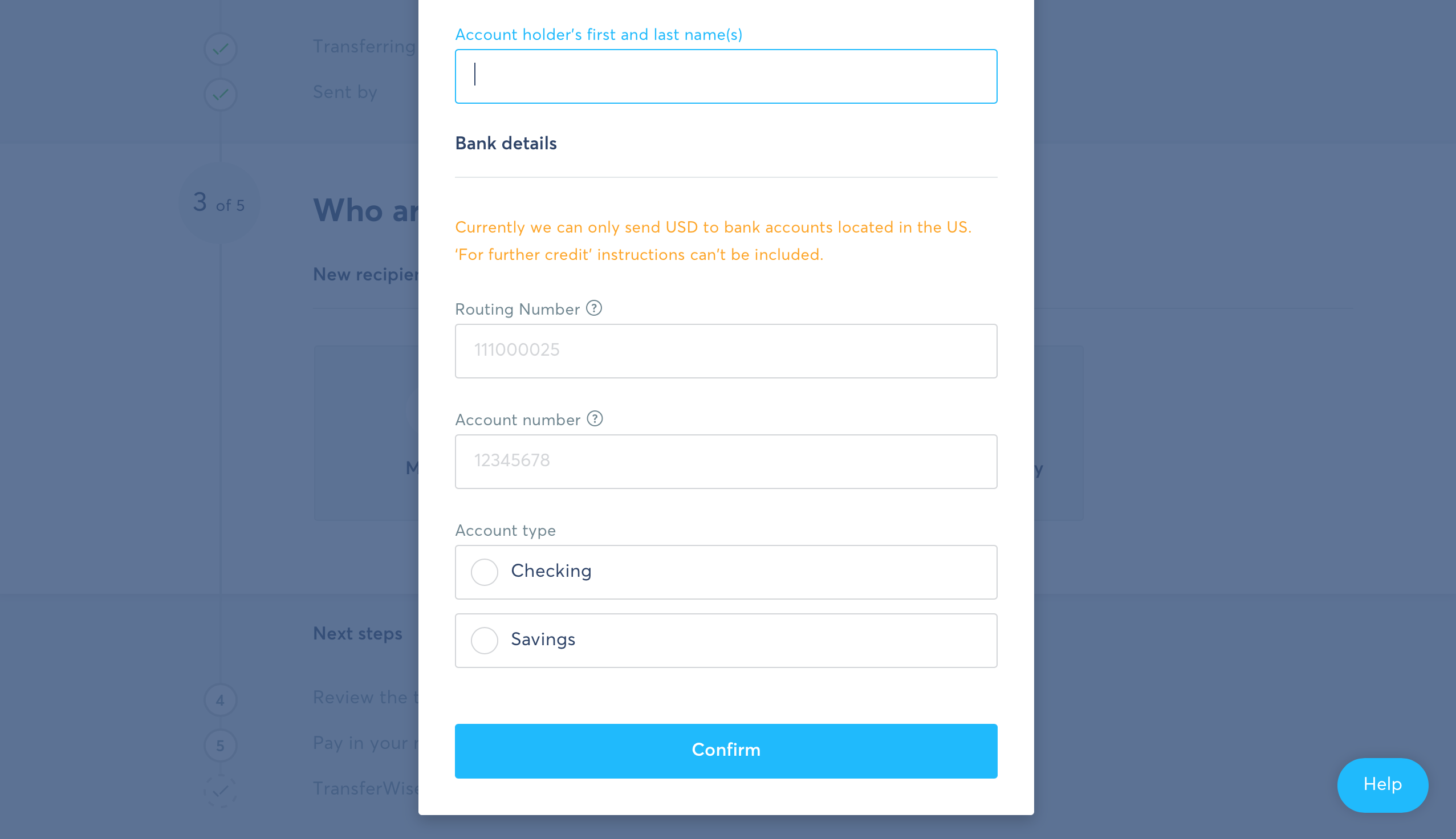 Once the details of your recipient are verified, you'll get a message stating they have been confirmed. From here you'll be able to continue your order and move onto the next steps.
Step 6: Reviewing your order
This page is essentially a summary of all the information you've provided Wise so far. It will include the estimated date the recipient will receive the funds, the rate you're being offered and all included fees.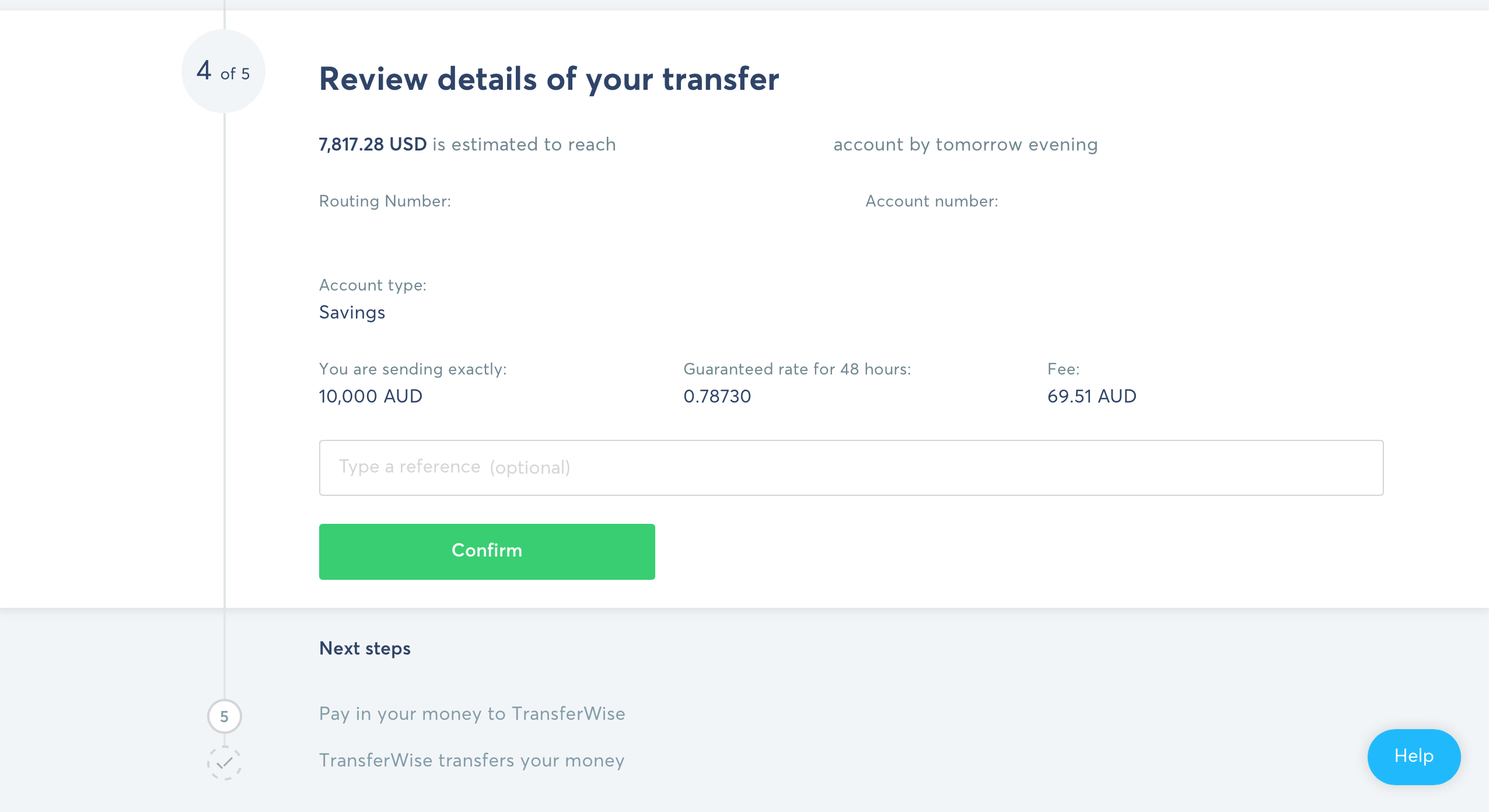 Step 7: Funding the transfer
This step is about informing Wise how you'll be paying them to make the transfer. As our example is for $10,000 you have two options. You have the option to use either an internet bank payment or bank transfer. If you're making a smaller payment of $3,500 or less you can also use a debit or credit card.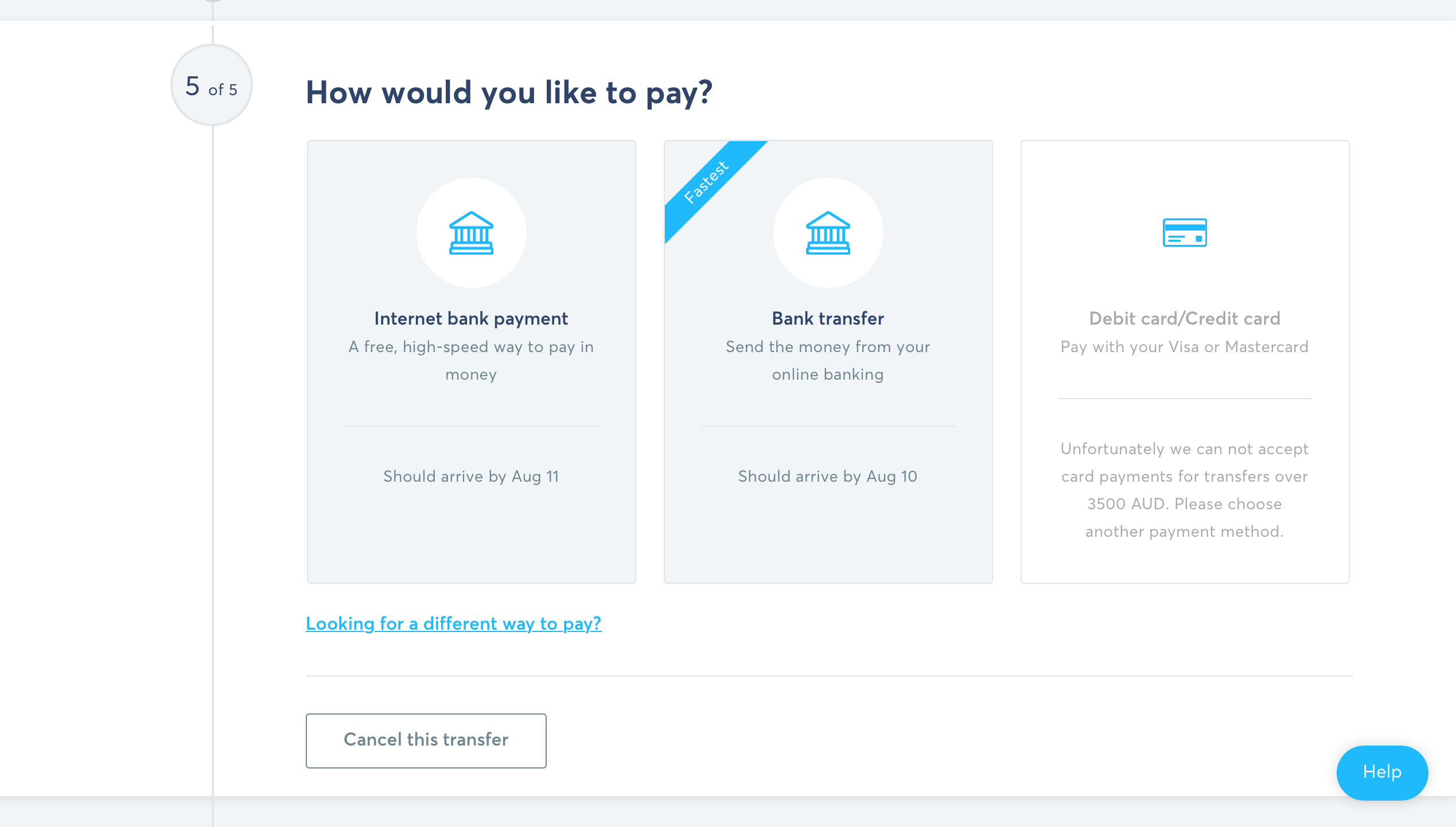 You can choose to pay into the account later. The transfer will pend until your payment is received. The exchange rate that Wise provide will hold for 48 hours (depending on the currency route) while you process your payment.
Step 8: Confirmation
The final step will be a confirmation of your order, it will include the rate you received, the amount you're sending and the total your recipient will receive once the transfer has been completed.
More information about transferring money overseas with Wise
Read our Wise review for following detailed information:
Pros and cons
Customer reviews
Safety and trustworthiness
Transfer speeds
Costs, fees and charges
Mobile app
Borderless account and debit card
Business products
Summary
And that's it! A guide about transferring your money overseas using Wise.
The next time you or someone else needs to send money internationally, check how much you can save using our money transfer comparison tool.