Compare Foreign Exchange Rates for Cash
Buy foreign currency online for delivery, collection or find a store near you
Where is the best place to buy foreign currency?
You can buy foreign currency from a lot of locations in Australia. Places you can buy foreign currency include online, in-store at money exchangers, banks, the post office and the airport. There are better ways you can buy foreign currency that may be cheaper and more convenient. These include:
buy foreign currency online

for delivery or collection in-store

buy foreign currency in person

- head into the city and use a specialist money exchanger
through a bank
from a friend
overseas money exchanger
To find out exactly where you can physically buy foreign currency, use our handy city and suburb guides, just click on the links below:
How to buy foreign currency online or collect in person
Buying more common foreign currencies in Australia is relatively easy. You can either do it online, or you can collect foreign currency in person at a store.
Buying currency online
To buy currency online, there are 2 steps:
Ordering – This is pretty simple. It's just entering the amount of currency you need, where you are going to pick it up from and when you'd like to pick it up. You'll also need to choose between paying via Bpay or card.
Your Details – Standard stuff. You'll need to provide your contact and payment details. You may be asked some security questions to identify you when you pick up your currency.
How to buy currency online at the best exchange rate
Most online currency exchange services charge an extra margin for their exchange rates. However, if you want to buy foreign currency online at the best exchange rate for most major currencies, S-Money, an online currency exchange service, gives you the exact same rate you find on Google and XE, in real time.
They also offer in-store pick-up, as well as delivery options. However, due to Covid-19, pick-up options are limited so make sure you check their website for more detail.
Is it safe to buy foreign currency online?
As with all online purchases, it really comes down to the company you are buying the foreign currency from. The Currency Shop is safe and secure and is partnered with only trustworthy foreign exchange companies in Australia such as Travelex, Travel Money Oz and S-Money.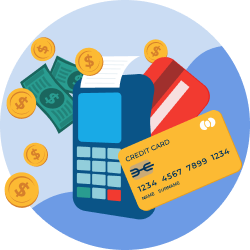 Buying currency in person
Collecting foreign currency can be very convenient if you have a large amount, want to negotiate, or if you're trying to get foreign currency at the last minute.  Here are the steps to buy foreign currency in person:
Choose the best way to buy the foreign currency.
Take your valid photo id (driver's license or passport) with you.
Bring your preferred payment method. Most places accept cash, debit card and credit card to pay for your foreign currency.
Ask for the foreign currency amount and the money exchanger will let you know how much in Australian dollars you need to pay.
Make your payment in Aussie dollars and receive your foreign currency.
There are several travel money exchange services like Unimoni that have a large national network of stores. However, please note due to Covid-19 and the lack of international travel some of them have closed or have limited stores open.
For more valuable tips check out our article on how to buy currency online versus in-store.
When is the best time to buy or sell foreign currency
The answer is, there is no 'perfect time' to buy or sell the Australian dollar, or US dollar or any currency in the world. Buying or selling foreign currency can be tricky, especially if you want to exchange Australian dollars (AUD) with foreign currency cash at the best exchange rate. Fortunately, there are free tools and tips that can help you make the most of your money.
For instance, our handy rate tracker and alert emails will be able to help tell you when the exchange rate has hit your ideal level.
All you need to do is choose when you need to buy your foreign currency and nominate the exchange rate you ideally want to buy or sell.
You will be notified by email when the AUD reaches your specified rate. It's easy.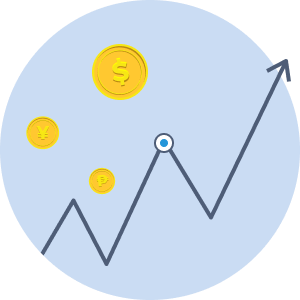 These additional resources are also handy to help you pick out the best exchange rate possible:
Yes. However banks deliver this service in a variety of ways and can differ in terms of the currencies available, amount of money available and location of cash pick-up.
Usually banks like ANZ offer foreign exchange services in specific branches located in your city-centre or they offer an online service to order cash and collect from a nominated branch at a time you can choose. If the currency you need isn't available, banks can order it in. But you need time for it to arrive and it can take up to 5 business days.
Is it possible to exchange foreign currency at a post office?
There are 2 ways you can exchange foreign currency in cash at the post office. You can order it online by going onto the Auspost foreign currency cash website, enter the amount you want, then lock in the exchange rate, pay for it and choose a pick-up location and pick-up date. Or you can head to Australia Post offices that offer a 'foreign currency' service and order it in person.
Australia Post outlets also have an American Express Currency Exchange centre in them, which is also very helpful if you need to buy or sell currency in a hurry.
No you can't buy or sell foreign currency cash at an ATM. Fortunately, you can use your card to withdraw foreign cash from specific ATMs usually located in major city-centres.
Where is the best place to exchange money overseas?
You'll get the best exchange rates if you buy foreign currency at your destination rather than at home, but it might not be as convenient. If you're looking for information on the best ways to take travel money for a specific destination check out the following country guides:
Most major currencies can be bought online. The most popular are Brazilian Real, British Pounds, Canadian Dollar, Chilean Peso, Chinese Yuan Renminbi, Croatian Kuna, Czech Republic Koruna, Danish Krone, Euro, Fijian Dollar, Hong Kong Dollar, Hungarian Forint, Indonesian Rupiah, Japanese Yen, Malaysian Ringgit, New Caledonia CFP Franc, New Zealand Dollars, Norwegian Krone, Philippine Peso, Polish Zloty, Russian Ruble, Saudi Arabia Riyal, Singapore Dollar, South African Rand, South Korean Won, Swedish Krona, Swiss Franc, Thai Baht, Turkish Lira, UAE Dirham, US Dollars, Vanuatu Vatu, Vietnamese Dong.
Is it safe to use The Currency Shop?
Yes. The Currency Shop holds an Australian Financial Services Licence (462269) and is a member of the Financial Ombudsman Service. We closely vet our providers and only partner with the largest, safest and most trusted money transfer companies in the world. That just makes sense.
Does it cost me anything to use The Currency Shop?
The Currency Shop does not charge you. Instead, we receive a referral fee from the banks and money transfer companies that we are partnered with. This does not affect the price you pay.
Your currency knowledge centre
The Best Online Currency Exchange Services in Australia
Here is a list of the best Australian online travel money providers, including a quick snapshot for each company and the pros and cons.
How to Buy Currency: Online Versus In-Store
Buying travel money online is one way to reduce stress and potentially save time – but are there any disadvantages you need to be aware of?
The Ultimate Guide to Currency Exchange in Australia
There is no single way to exchange currency that is always the cheapest. It really depends on what currency you are buying, how much and where you are.