Review and compare the most popular prepaid travel cards
Travelex Money Card
What you need to know about the Travelex Money Card

With the Travelex Money Card there is no need to carry around a lot of cash. You can load up to 10 currencies and benefit from contactless payment functionality. You can also download the Travelex Money app which allows you to check your balance on the go, or reload more/different currency in seconds.
Some of the other benefits are the 24/7 Global Assistance. That means that you don't have to worry about losing your card or the card being stolen. Travelex quickly and securely provide you with emergency cash.
And what if you need some cash for all those smaller purchases? With Travelex Money Card you can withdraw cash at no extra cost as there are no ATM charges overseas.

---
Exclusive Discount Offer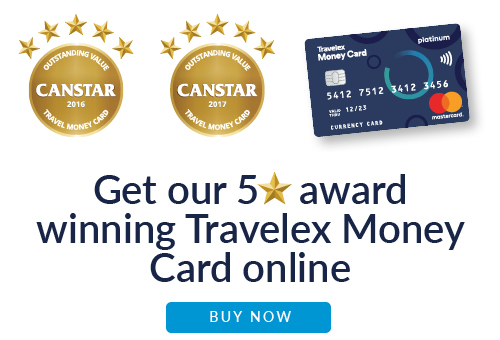 We're offering special rates for Currency Shop customers for a limited time only.
Simply order your card today and load or reload a selected currency,* and use the code CURRENCYSHOP at checkout.
*Available currencies include: USD, GBP, EUR, NZD, SGD,HKD, THB, JPY and CAD.
---
When to use it
It is useful for someone that regularly travels but also makes online purchases in foreign currency.
What we like about the Travelex Money Card
Free Wifi
$0 international ATM fees. This is a huge benefit if you are travelling often and prefer to take out local cash from an ATM
Features and Benefits
Save and Secure
24/7 Global Assistance
Emergency card/cash available if stolen/lost
No ATM fees
Contactless payments
---
NAB Traveller Card
What you need to know about the NAB Traveller Card
When to use it
If you travel often and take out local currency in cash frequently. If you already bank with NAB, this card is can be managed through NAB internet banking.
What we like about the NAB Traveller Card
Having access to emergency funds and a replacement card at no cost is great. Hopefully you'll never need it but it's a good fall back.
How their marketing department sells it:
NAB Traveller Card is a prepaid card that lets you use up to 10 currencies on the one card when you travel , so you can pay like a local.
Lock in exchange rates before you travel to know exactly how much money you can spend while you're away.
Anyone can apply for a NAB Traveller Card.
---
ANZ Travel Card
What you need to know about the ANZ Travel Card
When to use it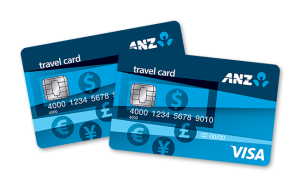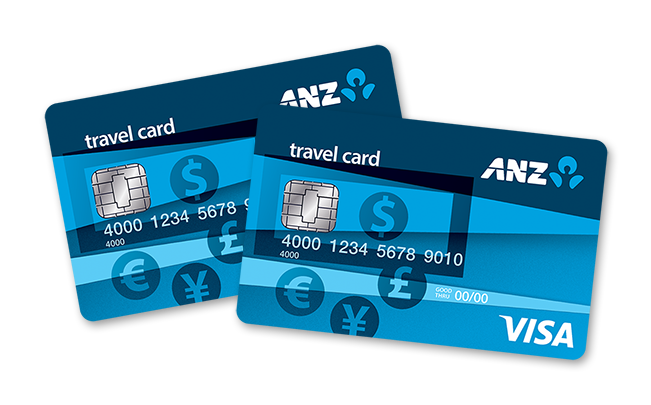 The ANZ Travel Card is useful for regular holiday or business travel with a good mix of currencies you can load onto the card.
What we like about the ANZ Travel Card
We like the security and helpine coverage. The customers service line is 24/7 and available from anywhere in the world by phone. Along with the usual chip and pin protection, we also liked the coverage of the ANZ Fraud Money Back Guarantee which includes the ANZ Travel Card
Best Feature
Buying it – If you are travelling last minute you can pick one up from an ANZ branch. Ordering online can take up to 5 days.
How their marketing department sells it:
With ANZ Travel Card, you'll never have to worry about lugging around large amounts of cash. It's a simple, safe and convenient way to spend money while you're off exploring the world.
You can use your card at any of the 29 million merchant and ATM locations worldwide wherever Prepaid Visa cards are accepted electronically. Plus, each card is issued with its own secure PIN that is completely independent of your bank accounts. What's more, we'll supply you with a back-up card in case of theft or loss.
---
Commonwealth Travel Money Card
What you need to know about the CBA Travel Money Card
When to use it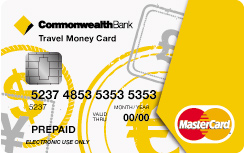 This card has an impressive list of currencies you can load onto it including the Vietnamese Dong. Any traveller that spends a lot of time in Asia will find this card useful.
What we like about the CBA Travel Money Card
Outside of the broad range of currencies available, we like SMS balance alerts. It is a great free feature.
How their marketing department sells it:
Choose and load up to 13 currencies on your card at any one time
Lock in the exchange rate before you travel
Transfer existing card balances into other currencies – fee free
Reload via BPAY®, in branch or by calling us
Check your balance online or by phone (+61) 1300 660 700 anywhere, anytime
Smart chip, PIN and signature protected