Ubank international transfer: Fees, rates and alternatives [2023]
In May 2022 UBank launched its new, upgraded app, after merging with 86 400. While this brings a lot of new features for Ubank users, it did also put an end to Ubank's options to send and receive international payments. That means that if you're using Ubank and need to get money to or from someone overseas, you need an alternative.
The good news is that there are lots of other options out there. This guide explores popular alternatives, including Wise, OFX and WorldRemit, so you can find the right service for your payment, based on fees, rates, convenience and speed.
Does Ubank work internationally?
International transfers are not supported by Ubank. Since the Ubank app upgrade, Ubank's focus has been on streamlining their customer proposition – and one feature change was the end of services to send or receive international transfers.
Comparing Ubank alternatives on international transfers
Ubank isn't an option for international payments. But there are plenty of other providers out there which are just as convenient and intuitive to use, and which do allow you to make payments overseas, or when you're travelling.
To find the perfect provider for you we'll compare 4 alternatives to Ubank – Wise, OFX, WorldRemit, and PayPal.
First let's look at an overview of their speed, transparency, ease of use and price when transferring money abroad. Later we'll dive into more detail to help you decide which might suit your specific needs best.
Wise
OFX
WorldRemit
PayPal
Fees & Exchange Rates
Low transfer fees and the mid-market exchange rate

15 AUD fee for payments under 10,000 AUD – higher value payments have no transfer fee
Exchange rates include a small markup

Fees vary by destination and payment type, exchange rates include a markup

5% transfer fee (0.99 AUD – 5.99 AUD) + 3% or 4% currency conversion fee
Extra fees of 2.6% apply when paying by card

Transfer Speed

50% of payments are instant
90%+ of payments arrive in 24 hours

Most payments arrive in 1 – 2 days

Cash collection and mobile money payments may be instant
Deposits to bank accounts may be instant or take a day or 2 to arrive

Payments are deposited instantly to PayPal accounts – it may take a day or two to withdraw to a bank account after this
Countries you can send money to
80+; countries, 50+ currencies
170 countries, 50+ currencies
130+ countries
Global coverage
Transfer limits
Limits vary by country, but are typically set at the equivalent of 1 million GBP
Often no upper limit applies
Limits vary by country
Limits vary depending on how your account is set up
Convenience

Send payments online or in app
Support available in app and online
Multi-lingual support available

Send payments by phone, online or in app
Support available by phone, in app and online
Support primarily available in English

Send payments online or in app
Support available in app and online, plus phone support if you have a transfer already in progress
Multi-lingual support available

Send payments online or in app
Support available in app and online. Phone support may be available if you have an account registered
Multi-lingual support available
Go to Wise
Go to OFX
Which Ubank alternative is best for you will depend on the payment you need to make.
If you want a
low cost, fast transfer to a bank account
, for example,
Wise
may be a good bet – while WorldRemit may be your top pick if you need to send a payment for cash collection. Each provider has its own advantages – here's why each of our Ubank alternatives may be a great option for you:
Wise – often one of the lowest cost providers for payments to bank accounts, you can generate a quote online with no need to register an account, to compare costs
OFX – good pick if you're not sure about how to set up your payment and want a personal service over the phone
WorldRemit – perfect if you need to get money fast to someone without access to a bank account, with payments to mobile money accounts and for cash pickup
PayPal – offers great global reach, and instant deposits to other PayPal users around the world
Keep reading to learn more about each of our Ubank alternatives.
Wise
Wise is a specialist in international transfers and multi-currency accounts for personal and business customers. Set up in 2011, Wise now has 13+ million users, and often tops comparison charts as one of the lowest cost options for currency conversion and cross border payments.
All currency conversion uses the mid-market exchange rate with low, transparent fees for payments
Multi-currency accounts and cards available for customers to hold and exchange 50+ currencies
Send payments to 80+ countries, in 50+ currencies, or open a Wise Account to get paid like a local from 30+ countries and spend with a linked Wise card in 170+ countries
Fast transfers – 50%+ arrive instantly
Pros and Cons of Using Wise
Pros
Low fees and the mid-market exchange rate
Personal and business services available
Send to 80+ countries and receive money with fee free local transfers from 30+ countries
Cons
Fees vary based on destination country
Multi-currency accounts are not interest bearing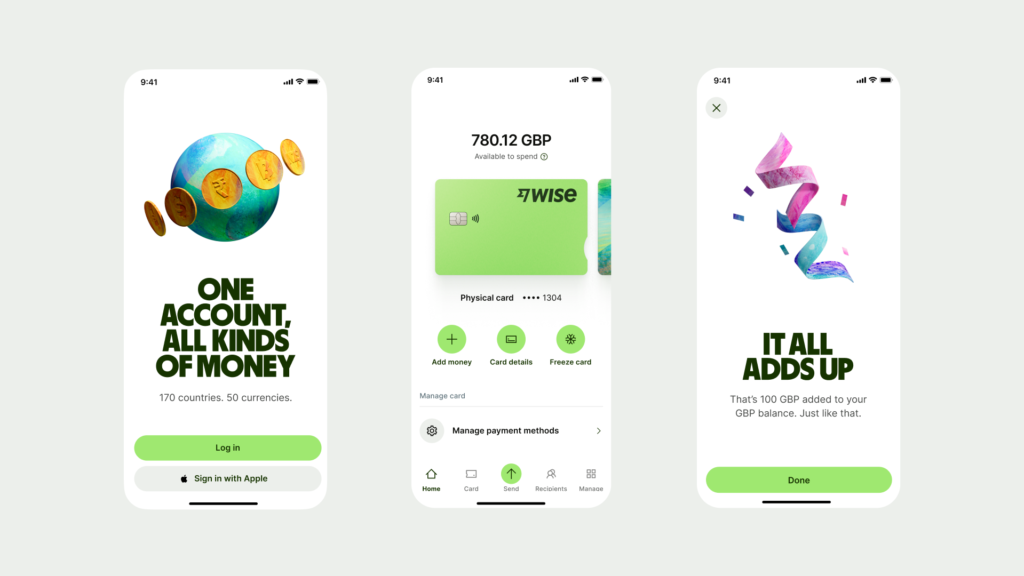 Go to Wise
OFX
OFX has offices in 8 global locations, which allows it to offer a 24/7 phone service to customers around the world. OFX personal customers can make international transfers in 50+ currencies, and access currency risk management products too. Business customers can do all this, plus open multi-currency accounts to hold, send and receive payments easily.
24/7 personal phone service, plus a range of currency risk management tools and products
One off and recurring international transfers to a huge range of countries, in 50+ currencies
Personal and business services, including multi-currency accounts aimed at businesses and online sellers
Known for great service, no transfer fee for higher value payments, and bank beating exchange rates
Pros and Cons of Using OFX
Pros
Personal phone service if you need help and advice, plus no upfront transfer fee
Send payments in 50+ currencies and get more complex currency products like limit orders
Good range of business services
Cons
Exchange rates include a markup
Payments may take a day or two to arrive, depending on destination
WorldRemit
Send a WorldRemit payment to a bank account, for cash collection, to a mobile money account or as an airtime top up. You can make payments to 130+ countries, on popular remittance routes, which can be particularly helpful for people looking to get money home quickly when working overseas.
Great range of pay out options including cash collection
Transfers can be instant, depending on payment method
Pay by bank deposit, credit or debit card
Frequent promotions and new customer offers which can bring down the cost
Pros and Cons of Using WorldRemit
Pros
Great range of pay out options and 130+ countries covered
Set up payments online or in the app for convenience
Low fees, which are displayed when you model your payment online
Cons
Not all services are available in all destination countries
Exchange rates include a markup
PayPal
PayPal is a huge global giant in electronic payments. As so many people all around the world already have a PayPal account this may be a fast and easy option for your transfer, although your payment will land in your recipient's PayPal account rather than their bank account.
Popular and secure option with a broad range of services
Transfers can be deposited instantly if you pay with card or PayPal balance
Huge global coverage with millions of users
Pay with just an email address – no need to get bank details
Pros and Cons of Using PayPal
Pros
Huge global reach covering pretty much every country on earth
Instant payments to PayPal accounts in a good range of currencies
Send payments with just the recipient's email or phone number for convenience
Cons
Fees can be high, at 5% + 3% to 4% currency conversion costs
Money is deposited into a PayPal account – extra fees may apply to withdraw the funds to a bank
As alternatives, we'll explore:
Wise – for great exchange rates and speedy transfers to 80+ countries
OFX – if you want low fees and a personal service 24/7 over the phone
WorldRemit – which offers cash pickups via a huge agent network
PayPal – make global payments to and from PayPal accounts all over the world
Can you send money internationally with Ubank?
No. Ubank can't be used for international transfers, only for domestic payments within Australia, being sent in Australian dollars.
Conclusion
Ubank's new app brought with it some neat new features for users. But it also means you can no longer send or receive an international payment with Ubank. The good news is that there are lots of other providers out there which are as easy to use as Ubank, and which cover a good range of countries and currencies.
Ultimately the best Ubank alternative for you will depend on the specific transfer you want to make. We've picked out some great contenders, like Wise for low cost international payments with the mid-market exchange rate, and WorldRemit if you want the money to be collected in cash. Use this guide to kickstart your research and make sure you get the best provider for your payment.
Ubank International Transfer FAQs
Can you send money with Ubank to someone in another country?
No. You can not make a Ubank payment to anyone based outside of Australia, or send a payment in any currency other than AUD. But you can use alternatives like Wise, OFX and WorldRemit to make international payments.
Can you use Ubank internationally?
You can not use Ubank to send or receive payments internationally. Consider other alternatives that provide international money transfers, such as Wise and OFX.
Does Ubank convert currency?
Ubank does not convert currency. Ubank supports payments to and from Australian bank accounts only, which should be made in AUD.