Is Wise Safe? All you Need to Know [2023]
Wise is known as one of the most cost effective providers of international money transfers, serving over 11 million customers globally.
When it comes to sending money abroad, price, transparency and convenience are important. However, the crucial question for many customers will always be: is my money safe with Wise?
This guide covers all you need to know about how Wise is regulated, how they keep customer money safe, and whether or not Wise is a safe provider to use.
Quick summary
Safe service trusted by 11+ million customers
Excellent rating from customer reviews on Trustpilot
Authorised and regulated by ASIC and global authorities as required
Account verification, 2 factor authentication and passwords used
Anti fraud technology and teams to protect customers
Wise advantages
Wise disadvantages

Safe service, regulated by ASIC and similar bodies globally
Ways to hold and exchange 40+ currencies with the mid-market rate
Send payments quickly or instantly with low fees
Manage your money, view transactions, get alerts and freeze and unfreeze your card with your phone

Some service and transaction fees apply
No branch network if you need help – support by in app chat, email and phone
Is Wise safe?
Yes, Wise is a safe provider of online and mobile money transfers around the world. You can also open a secure Wise account to hold and exchange 50+ currencies, and spend globally with a linked debit card.
Wise is regulated by global authorities including ASIC in Australia, the Financial Conduct Authority (FCA) in the UK and FinCEN in the US.
Year founded: 2011
Regulation: Regulated by ASIC in Australia
Number of customers: 11+ million customers
Services available: Transfer to 80+ countries, hold 50+ currencies in a Wise account
Card services: Spend in 200+ countries around the world with a Wise card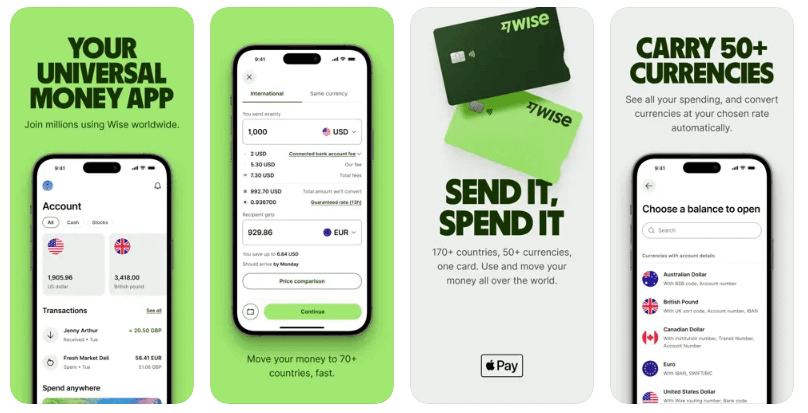 How is Wise regulated?
Wise Australia Pty Ltd is regulated by the Australian Securities and Investments Commission (ASIC) and holds an Australian Financial Services (AFS) licence. Wise also has a limited authorised deposit-taking institution licence as a provider of Purchased Payment Facilities. This service is overseen by the Australian Prudential Regulation Authority (APRA). Wise is a reporting entity with the Australian Transaction Reports and Analysis Centre (AUSTRAC).
AFS licence holders have responsibilities to keep customer funds safe. These include operating robust processes with security in mind, keeping customers' money in segregated accounts, and training staff properly. Under Australian regulations, Wise is authorised to provide customer transfers, and safely allow customers to hold funds through its multi-currency accounts.
As a global business, Wise is also regulated by international bodies, so you'll know your money is safe no matter which currency you're using.
Is Wise as safe as banks?
Wise is not a bank – however, for the services Wise offers, they are as safe as a bank.
Banks are often subject to more regulation compared to international money transfer companies, because they also offer extra services like credit cards and loans. For international transfers, Wise is as safe as a bank, but often cheaper and faster.
Is Wise a bank?
Wise is not a bank. However, for the services it offers Wise follows similar rules to banks. Like banks, Wise is subject to ASIC regulations, and has its own dedicated teams to protect customer funds and prevent fraud.
How does Wise keep your money safe?
Wise uses a broad range of approaches to keep customer money safe. Here are the key features:
Customer funds are safeguarded at top tier institutions
Licensed and regulated around the world
Dedicated 24/7 anti fraud technology and support team
2 factor authentication for your account and card
Transaction alerts every time a payment is made with your Wise card
Independently audited with regular testing to check and fix any vulnerabilities
Privacy Act compliant data protection
Is Wise money transfer safe?
Wise is a safe provider to send international payments with. As well as being licensed and regulated by ASIC and APRA, Wise has a range of security measures in place to protect customer funds and ensure payments are safe.
Is Wise safe to keep money with?
It's safe to hold funds in your Wise account. Wise holds an authorised deposit-taking institution licence as a Purchased Payment Facility, overseen by APRA.
Whenever you deposit money into your Wise account, it is safeguarded in a leading financial institution which means your money is secure and is always held entirely separately to Wise's own money.
Is Wise safe for large amounts?
Wise is a safe way for individuals and businesses to send high value payments. Transfer limits may apply and are set according to the destination country and currency.
Before you arrange a high value payment with Wise you may want to take a few sensible steps to make sure everything goes through smoothly:
Verify your account. If you have a new account you'll need to complete a verification step to get started. You may also be asked to verify your account at a later stage, based on the transfer value and type.
Confirm the recipient's bank details.  Make sure you have all of the required details to process your payment safely. You'll always need your recipient's full name and bank account number, along with other region specific details like an IBAN, routing number or sort code.
Double check your transfer limits. Check your own bank's transfer limit and whether there are any bank fees to pay for funding your Wise transfer through your bank account or card.
Is the Wise card safe to use
The Wise card is safe to use. To open a Wise account, customers must go through a thorough verification process, and once you have a Wise card you'll also benefit from card related security measures like 2-factor authorisation, built in adjustable spending limits and instant transaction notifications.
You can freeze and unfreeze your physical card whenever you want to, and also generate and use a digital Wise card if you prefer not to use your physical card for a specific payment. Wise has active automatic and manual anti-fraud measures in place, too, monitoring transactions to look out for anything suspicious, to help keep customers and their money safe.
Is the Wise business account safe?
The Wise business account is safe to use. Wise business accounts are also managed under ASIC regulations, with funds fully safeguarded in line with the way personal customer accounts are managed.
The main difference between using a Wise business account and a business account from a traditional bank is likely to be cost. Wise offers international transfers and currency conversion with the mid-market exchange rate and low, transparent fees, which can work out cheaper than using your regular bank.
Is Wise legit?
Wise is a legitimate, safe provider which already serves over 11 million customers around the world.
Compared with regular banks, Wise is typically cheaper. That's because Wise takes a different approach to international payments, offering the mid-market exchange rate and low, transparent fees. No smoke and mirrors, and no shady business practices to worry about.
Is Wise trustworthy?
Yes. Wise has 16 million individual and business customers already, and has an Excellent rating on Trustpilot with more than 190,000 live reviews active. It's a trustworthy provider which is fully licensed and regulated for the services it offers in the countries it operates in, and which many customers return to time and time again.
Is the Wise website safe?
Wise takes customer security and data protection seriously, and as a digitally native provider has built websites and apps which are designed with safety in mind. Wise protects customer data through industry level encryption, and secure log in methods. Wise is independently checked to ensure it complies with all legal requirements, and is SOC 1 type 2, SOC 2 type 2, PCI DSS and ISO 27001 certified, as well as GDPR compliant. All in all, that means the website is safe to use, and all customer data that Wise stores or processes is safe. To make sure Wise stays on the front foot, there are also ongoing vulnerability scans and audits looking for any ways criminals could try to exploit Wise data and information, and a bug bounty program which rewards anyone who spots and reports potential website vulnerabilities.
Is the Wise app safe?
The Wise app is safe to use and trusted by many customers already. In fact, the Wise app has been downloaded over 10 million times on the Google Play store, and gets a 4.7 star review, from almost 450,000 reviews. Over on the App store, it gets a 4.6 rating from 29,000+ reviews. The Wise app is frequently updated to improve service and eliminate bugs and any potential security concerns, and uses industry level security measures to make sure it's safe to use.
Customer reviews on Trustpilot
Trustpilot is a handy resource when you're checking out which international payment provider will be best for your transfer. Read reviews from previous customers to make sure you feel comfortable and are selecting a legit service.
Here's what previous Wise customers say about the services on offer:
Trustpilot rating: Excellent
Score: 4.6/5
Total number of reviews: 141,000+
Where security comes up in the comments left on Trustpilot customer reviews, it tends to be because of additional verification checks required to keep Wise accounts safe. These verification steps are typically required by law, and would be necessary whether you're sending a payment with Wise, your normal bank, or any other provider.
Can you get scammed on Wise?
Unfortunately fraudsters and scammers are active on all sorts of platforms including Wise and traditional banks, too. However, staying safe in most cases requires little more than a few sensible steps and common sense. Here are some tips:
Never share your account details or password with anyone
Don't use your Wise credentials to log into any site other than the Wise official homepage  – check the secure site symbol before you begin
Don't transfer money to anyone you don't know and trust
Check your recipient's account details before you make any transfer
Be aware of common frauds and phishing scams – these evolve and change over time, so staying aware is crucial
Can I avoid falling victim to fraud?
Should you be unlucky enough to fall victim to fraud while using your Wise account, you can report the issue to both Wise and the police.
To report fraud to Wise, log into your account and make your report there. If it's possible to stop the transaction, the Wise support team will help you.
If your payment can not be stopped or has already been received by the fraudster, you'll need to report the fraud to your local state or territory police. Depending on the situation, other organisations like IDCARE and Scamwatch may also be able to help you and offer advice to minimise the problems caused by the crime.
Is your personal data safe on Wise?
Wise protects customer personal data in line with Privacy Act rules, and has a duty to keep any sensitive data safe. Information is collected and used to process transfers, comply with legal requirements and improve Wise services.
What personal data does Wise collect?
Wise collects personal data from customers which can include information you give them, and information collected from you, such as your IP address and the way you use Wise services. Wise may also collect information from third parties, for example, to help in the account verification process.
You can ask Wise not to contact you for marketing purposes by changing your marketing settings within your account, or sending the customer service team an email.
Wise may be required by law to retain some information about you. The length of time that data is retained will depend on the specific information and the applicable laws. However, Wise will not hold customer data for any longer than is necessary for practical or legal purposes.
How to get started on Wise?
To use Wise you'll need to create an account, and depending on the type of payment you want to make you might need to provide paperwork to get started. This may include:
Proof of identity, like a passport
Proof of address, like a utility bill in your name
You may be asked to take a selfie holding your proof of ID for verification. In some cases, you'll be asked for further identification and paperwork when you make a transfer. This tends to happen when sending high value payments, and is  often required by law.
Once your account is up and running make payments online and in the Wise app:
Log into your account
Type in how much you want to transfer, or how much you need the recipient to get
Enter the recipient's details – bank account number or email
Check over the details
Fund your payment using a card or bank transfer
Confirm and your money will be on the move
Conclusion
Wise is a safe currency exchange and international transfer provider, which is popular thanks to its convenient service and low overall transfer fees.
Wise has a number of features to keep customer money safe, including thorough account verification, 2 factor identification for accounts and card use, and 24/7 anti fraud controls.
Wise is regulated by global regulatory bodies everywhere services are offered. In Australia, Wise has an AFS license issued by ASIC, and is also authorised as a Purchased Payment Facility through APRA.
FAQ – Wise Safety
Is Wise safe?
Wise is a safe provider for account services and international transfers. Customer funds are safeguarded, and accounts are protected by thorough verification processes and anti fraud technology.
How is Wise regulated?
Wise is regulated by ASIC and APRA in Australia. Wise is also authorised and regulated by other regulatory bodies around the world, including FinCEN in the US and the FCA in the UK.
Is the Wise good for bank transfers?
Wise offers local and international transfers to 70+ countries, which use the mid-market exchange rate and low fees from 0.43%. To see if it's the best service for your needs, it's best to compare a few options – try the Currency Shop international transfer comparison tool to check which provider may work best for you.
Is it safe to link bank account to the Wise account?
You can use a bank account to add funds to Wise or to pay for a local or international Wise transfer. If you use your bank with Wise, any data needed to process the transaction will be securely stored by Wise, following data protection regulations, to make sure your account is kept safe.
How good is the Wise service in Australia?
Wise Australia customers can open multi-currency accounts, order Wise cards, send payments, receive money like a local from 30+ countries, and send money to 70+ countries. The range of services is pretty broad, and both personal and business customers are supported. Compare Wise against a few other services using the guides available on the Currency Shop, to see which works best for you.