Where to Find the Best Currency Exchange Rates in the Adelaide CBD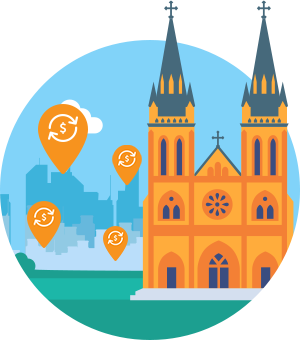 Beat the money changer rates with a prepaid travel card
Going to a currency exchange before a holiday can be exciting, but you will often be paying hidden fees that are baked into the exchange rate.
With a prepaid travel card from Wise, you get the market exchange rate (the one you see on Google) with low fees and complete transparency.
Currency Exchange in Adelaide
Coronavirus Update: Many currency exchange stores such as Travel Money Oz and Unimoni have temporarily closed their doors due to the COVID-19 pandemic.  If you want to exchange money in they Adelaide CBD, there is a good chance that all your options will be closed.
Check this page regularly for updates for when travel money stores open again.
Currency exchange in the Adelaide CBD is easy because all the best money changers are located within 200 metres of each other. We found that few charged a fee and their exchange rates where as good as Melbourne or Sydney. Overall, the level of service you'll receive is pretty good and most hold a good mix and stock of currencies.
Where to exchange money in Adelaide
On the day we compared all the money exchange stores, all the best exchange rates came from King William Street. Travel Money Oz and WorldEx had the best US dollar rate while Unimoni had the best rates to sell currency. ANZ was the best of the banks within a friendly service in a safe, professional branch.
All the money changes we spoke to asked for I.D so make sure you bring some. Most of them offered payment by card but keep in mind, it usually comes with a card fee which is higher for credit cards.
Use our guide to find out where to buy travel money in the Adelaide CBD.
| Money Changer | Address |
| --- | --- |
| S Money | Click and collect across Adelaide |
| First Eastern FX | Market Plaza, 61-63 Grote Street |
| Travelex | City Cross SC, 33-39 Rundle Mall, Adelaide |
| WorldEx | 65 King William Street Adelaide |
| Crown Currency | 33 King William Street |
How we rated them
Many of you might be wondering how we came up with our scores out of ten. After our exhaustive walk around the Adelaide CBD, we chose 5 categories to judge on, based on what we thought would be most valuable to you, the consumer. They were:
Exchange Rate - At the end of the day, this is the most important category. The better the exchange rate, the higher the score.
Customer Service - We all appreciate good customer service, service that is friendly, courteous and knowledgeable.
Stock of Currency - Being able to walk away with your nominated currency immediately is a prerequisite for most customers. So we asked each money changer if they had a number of common and less popular currencies on hand.
Safety - This score was based from the location of the store and the security offered.
Payment Options - We asked all the money changers what type of payments they accepted to score them.
After we choose our categories we weighted them based on importance within the transaction. It is no surprise that exchange rate was weighted the heaviest (40%), customer service was next (20%), stock of currency (15%), followed by safety (15%) and finally payment options (10%).
Just inside the Flight Centre on King William Street, this branch had excellent USD rates and prompt and attentive service. They had a good stock of currencies and all the usual payment options.
Unimoni (formally UAE Exchange)
Friendly, professional, with some of the best exchange rates particularly for selling currency to them. There are bank limits for eftpos and photo ID is required.
Very good service in the Beehive branch although their exchange rates aren't as competitive as money changers nearby. Their exchange rates are much better if you order online and pick up in-store.