4 Best Ways to Take Travel Money Overseas
As Australians, we love travelling. And while we travel, we need access to money. It's not the most glorious part of our travel plans, but it's equally important to decide on the best travel money option for us so we're not left feeling negative at any stage of our trip.
The problem is, it can be tricky working out the best travel money option to use. The fact is, the best one for you will really depend on what you need from the travel money type you're using.
There are 2 different types of travel money, card and cash.
For travel cards, there are 3 popular types of travel money cards:
It may sound obvious, but the most convenient way to carry money overseas remains cash. Virtually everywhere accepts it. Some places only accept cash, particularly in Asian and African countries.
It's always a good idea to have a little cash handy, even if only for emergencies and tipping. But keep it secured in a safe place.
Getting cash is best when you:
Want to lock in a rate
Want to stick to a budget
Have a secure place to keep it
Like to bargain for a better price for a product
Don't have precious time to waste hunting down the nearest ATM
Want to avoid card fees every time you need to pay for something
Getting cash is not great if you:
Want the absolute best rates
Need to pay by credit card
It can easily be stolen
Need to make a claim for stolen cash on your travel insurance
Are visiting multiple countries and plan to exchange money at each local currency provider
Can only exchange money at the airport
What are the fees?
Flat fee or percentage-based currency conversion costs
Delivery charges
While not a fee, you also should consider the exchange rate you're getting when you convert your Australian dollars
How to organise foreign cash online?
Compare: foreign exchange rates for cash
Select your currency and amount: then choose delivery or pick-up
Pay: Online pay by card, Bpay or bank transfer
Get your cash: In 2-5 business days
Buying money at the bank before you go
Banks usually give competitive exchange rates and fees, but shop around various banks and other providers as you might save a few dollars. At a bank, if you buy $1,000 worth you can pay more than $25 in fees and commissions.
Order your currency about a week before your trip (allow longer for uncommon currencies), because some money changers won't have the currency you want in stock.
Prepaid travel cards are a good alternative to carrying cash. With prepaid travel cards, you load the card with a set amount of money in the currency you need. You can then use it to make purchases online, in stores and to withdraw money at ATMs.
Most travel cards allow for different currencies to be loaded onto the card. So it's important to know what currency you'll be using on your travels. Airlines also offer prepaid cards so the money you spend can earn you reward points.
Benefits include:
Load money upfront so you can budget
Access multiple currencies
Lock-in your foreign exchange rates
Replaceable if lost or stolen
Frequent flyer points
Back-up card sometimes on offer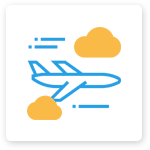 What are the fees?
Exchange rate margins for your initial load
Exchange rate margins when you close the card
Flat or percentage-based fees to load the card
Overseas ATM withdrawal fees
Exchange rate conversion fee when you use the card
Reload fees
Closing fees
How do you get a prepaid travel card?
Get a card: Compare prepaid card options and purchase your card online, at a bank or through your airline loyalty program
Activate and register: call the phone number or go online to activate and register
Load: add funds to your card in-store at time of purchase or online
Use: Make purchases or withdraw money from ATM
Reload: Add more funds to your cards via bank transfer/Bpay online
Debit Cards offer the convenience of a credit card, but work differently. They draw money directly from your bank account when you make a purchase. It's designed for everyday money transactions and means that you're not accumulating debt.
A debit card could make you stick to your travel budget, because you can't overdraw money from your account.
Benefits include:
Direct access to your savings
ATM withdrawals worldwide
Security features like card fraud protection and zero-liability if lost or stolen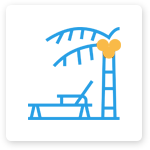 What are the fees?
Currency conversion fees for all debit card payments in foreign currency
Dynamic currency conversion fees if you don't choose the local currency to pay
Flat fee or percentage-based ATM withdrawal fees
Foreign ATM fees
Flat fee or percentage fee for debit card purchases via EFTPOS
How do you get a travel debit card?
Apply: Compare everyday transaction options and open account
Give details: Bring personal I.D. You need be over 16 years old and have an Australian address
Activate your account: get your debit card through mail
If you haven't received your card, visit your branch or call your chosen provider to check
Credit cards have been around for a long time. But now there are specialised travel credit cards. These cards give you longer to pay back what you've spent, but the interest rates can be quite high.
The main advantage with travel credit cards are the reward points you get in return when you spend. But it only works if you pay off the balance in full each month.
Credit cards are great to use for car hire, restaurants and accommodation - larger expenses that are easier for you to pay back over time. Some services only take credit cards to hold purchases so it's handy to have while you travel.
Benefits include:
Access to credit - often greater than your savings
Security features like card fraud protection and zero-liability
Low or no transaction fees
Frequent flyer points or rewards
Extra perks - travel insurance, purchase protection, airport lounge access, wifi, or concierge services
Widely accepted - visa and mastercard is accepted almost everywhere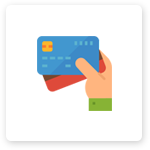 What are the fees?
Annual fees
Reward scheme fees
Cash advance fees
Interest charges
How do you get a travel credit card?
Build credit history - pay your bills on time
Choose your type of credit card: low rate, low fee or rewards points
Apply for a credit card: Bring personal details, photo ID and proof of income
Register for a new account if you don't have one
Receive credit card in the mail if approved
Want to learn more about travel money card providers?
We review some of the best travel money cards on offer from the following providers. They're some of your cheapest options to take travel money with you. We've shared information on:
An overview of each travel money card, giving you some quick, useful insight.
The advantages and disadvantages of each travel card or account and why you might choose to use them.
Fees, exchange rates and limits.
The currencies and extra benefits the card has to offer.
Safety and security of the provider that offers the card.
To find out how to compare travel cards, use our travel card guide.
Thinking about getting your travel card through your bank?
Banks are almost always more expensive than companies that specialise in travel money. They charge high fixed fees and worse exchange rates than you can get from companies like Wise, Revolut and similar businesses.
To make a fair comparison,  we've reviewed all of these banks and shared pros and cons about each one.
Remember, you can also use our comparison table in our travel card guide to find the cheapest option.
Do you know what currency you want to exchange?
Use our comparison tool to find the travel money provider with the best exchange rates for the currency you want to buy.
Your currency knowledge centre
5 Cheaper Ways to Transfer Money Overseas
Using a bank is one of the easiest ways of transferring money overseas, but can also be the most costly. There are alternatives that can make the whole process cheaper.
International Money Transfer Comparison and Reviews
Find the best international money transfer exchange rates to send money overseas from Australia. Compare the rates and fees from leading banks and money transfer services.
How to Transfer Money Overseas from your Australian Bank Account
Transferring money overseas from your Australian bank account is simple once you know how to do it, but you might be short on time to figure it out.