How to Open a Bank Account Online in Singapore from Australia
For foreigners opening a bank account in Singapore, the process can be difficult. But it is necessary to have a bank account in Singapore if you plan to live and work or study there.
As a country Singapore is known for its quality of life, education and safety. This makes it a popular destination for Australian's to relocate. A current account with one of Singapore's major banks will give you the ability to make payments, use a debit card and utilise many other financial services. It is essential if you plan to make the big move.
We have a look at your options for opening a bank account online in Singapore, from Australia. And we discuss when it is necessary to visit a branch to do so.
Remember, that once your account is open and you want to transfer money from Australia to Singapore, your bank is rarely the best option. Instead, we'd suggest using a specialist money transfer company. You can see how much you can save here.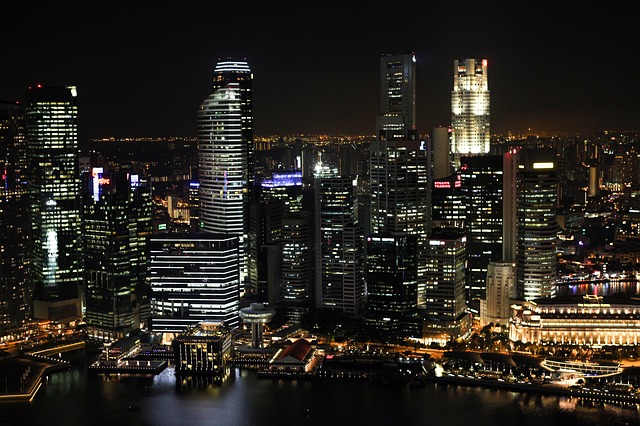 What you need to open an account with a Singapore bank from Australia
There are certain documents that are important when it comes to opening a bank account in Singapore. Here's what you will generally need;
A Passport.
An Employment Pass if you intend to work in Singapore.  You can apply for one here, but it needs to be done through your current employer.
A Study Pass if you will be studying in Singapore.
Some banks also request additional information including:
A document with your current address. This could be a utility bill, rental agreement, letter from a bank, employer or university but can't be more than three months old.
A letter of recommendation from your Australian bank.
Your Australian Tax File Number.
An introduction from one of the existing customers of the bank you're applying to.
Finally, you will need to successfully apply for an employment or study pass before arriving in Singapore. Without one of these passes you cannot live, work, or study in the country. These requirements do make it difficult to open a bank account in Singapore if you are not planning to settle there over.
Open a bank account online in Singapore without an Employment Pass
This can be difficult. You usually will need an employment pass from your employer in Singapore in order to open a bank account. But there is a chance that you can do it without one if you're able to provide enough information that the bank needs.
Our suggestion would be to contact banks in Singapore directly to find out if they would be able to help you in this situation.
Global banks with branches in Singapore
Because it can be tricky to open a bank account in Singapore from Australia, there is a work around you could try. Utilising an Australian bank that has branches in Singapore can make the whole process a bit easier. Several Australian banks have branches in Singapore. These include NAB, CommBank, and ANZ. We'd suggest speaking with your local branch about opening an account in Singapore before you make the move.
Development Bank of Singapore Limited (DBS Bank)
The first major bank in Singapore we'll discuss is DBS Bank. They have a very useful expat program. They let new residents get up and running with a bank account when they arrive in Singapore. The account supports 12 different currencies and pays up to 3.5% interest on your savings balance. They also give you a debit card that allows you to make purchases and withdrawals. Finally, you can look into their cash-back, rewards cards and special healthcare packages.
Unlike some international accounts, this one does not require you to have a high minimum balance. This is great news when you're making the move to a new country.
You can apply online here, and they will let you know if you can setup an account before you arrive in Singapore.
OCBC Bank
The second major bank in Singapore we'll discuss is the OCBC Bank. OCBC Bank provides healthy interest rates and many other benefits for expats opening an account in Singapore. It is great news to know they can cater to expats, but there is a few requirements you must meet in order to open an account with them.
You must be 18 years of age
Have an Employment or Work Pass
Maintain a minimum monthly balance of $3,000SGD
Pay a monthly fee of $2SGD
You can call them on (+65) 6363 3333 to see if you can open an account from Australia. They will need you know if you need to visit a branch in Singapore instead. Know that in most cases, you will need to visit a branch and apply in person when you get there.
Finally, OCBC also offers a Global Savings Account but you can only apply in person at an OCBC branch.
United Overseas Bank (UOB)
The final major Singaporean Bank is UOB. Unfortunately, UOB does not allow you to open an account from overseas. This means you will not be able to open an account with them before you leave Australia. When you get to Singapore, you can visit a branch in Singapore and open an account in person.
If you would like to apply for a UOB account online, you can find out more about their website 
here
.
Fees and bank charges in Singapore
Most banks in Singapore do charge monthly fees on accounts. Sometimes this is true if you allow your account to fall below a certain minimum balance. There may also be minimum deposit requirements for when you first open the account. Additionally, several banks have early bank account closure fees.
Typically, you can withdraw money from your own bank for free. You will find that you might be charged for doing so from different banks though. And make yourself aware of all other fees. For example, some banks charge you for closing the account.
All in all, it's important to make yourself aware of all terms, conditions, charges and requirements for opening an account. That way you won't get caught out.
Summary
In most cases, we recommend having an account with an Australian bank that has a presence in Singapore, and then asking if you can open a new account there. Having said that, if you are going to open an Australian bank account for this reason, check that they do have branches in Singapore.
It's important to find an account that best suits your needs. But as you can see, it is pretty difficult and expensive to open an account online in Singapore from Australia.  When it comes to transferring money from your bank account to your new Singaporean bank account, remember that using a money transfer service is usually the cheapest way to go. To compare your options you can head to our money transfer comparison table where you can find the best rates and fees for your transfer.