How to Send Money Overseas with XE Money Transfers in 6 Easy Steps
Are you thinking of sending money overseas and overwhelmed with the options? You may have used XE.com to get a currency exchange conversion, but did you know they also do international money transfers? Find out how to send money overseas with XE, with the following information:
If you are still deciding and need to compare your options, you can use our comparison table, here.
The first step in making a transfer with XE is to go to their homepage. Here, you can check the exchange rates between any currencies. When you're ready to start setting up your account, head to the top and select 'transfer money'. On the left you'll see the resources available in relation to transferring money, select 'XE money transfer' to start the process.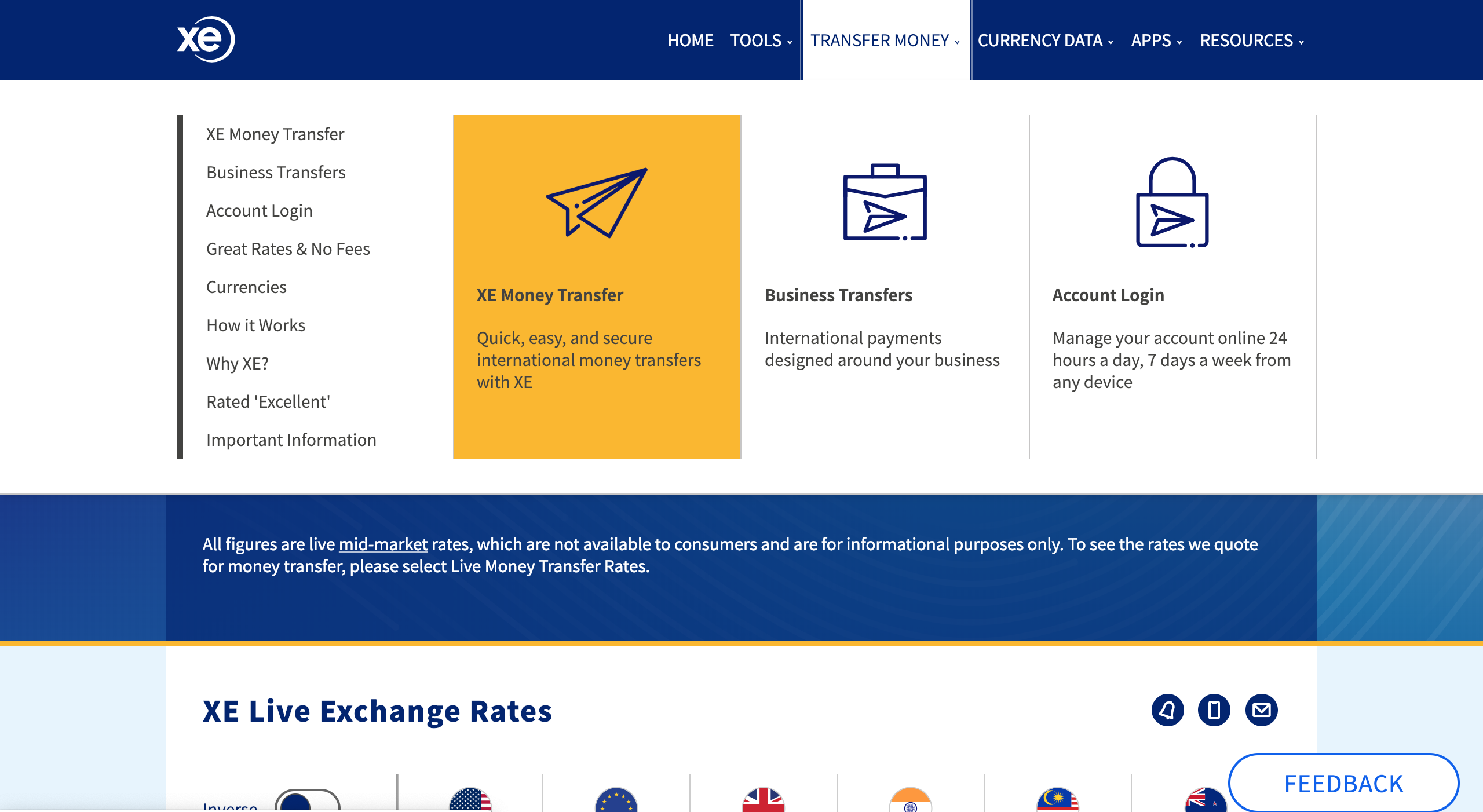 Step 2: Creating your account
The next few screens require you to fill in details about yourself. XE needs quite a bit of information from you including your full name, address, contact details and an estimation of how much you think you'll transfer in the next twelve months. It's really important that you make these details accurate. You may need to provide identification later in the process and the details need to match.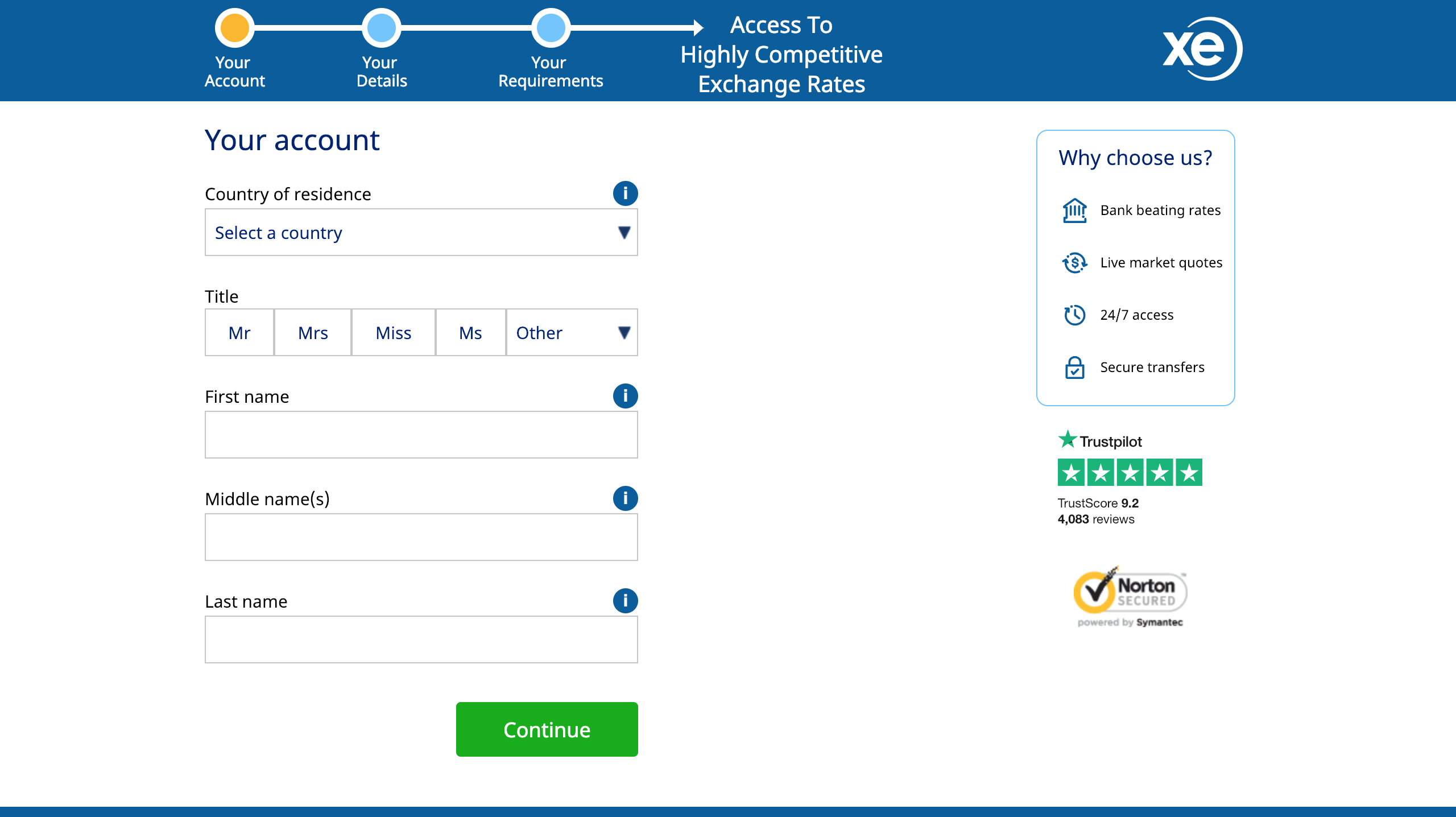 Step 3: Finalising your account
Once all these details are filled in, and you have created your login credentials, you'll be asked to accept their privacy statement and terms and conditions. You can read them in the links provided on the screen.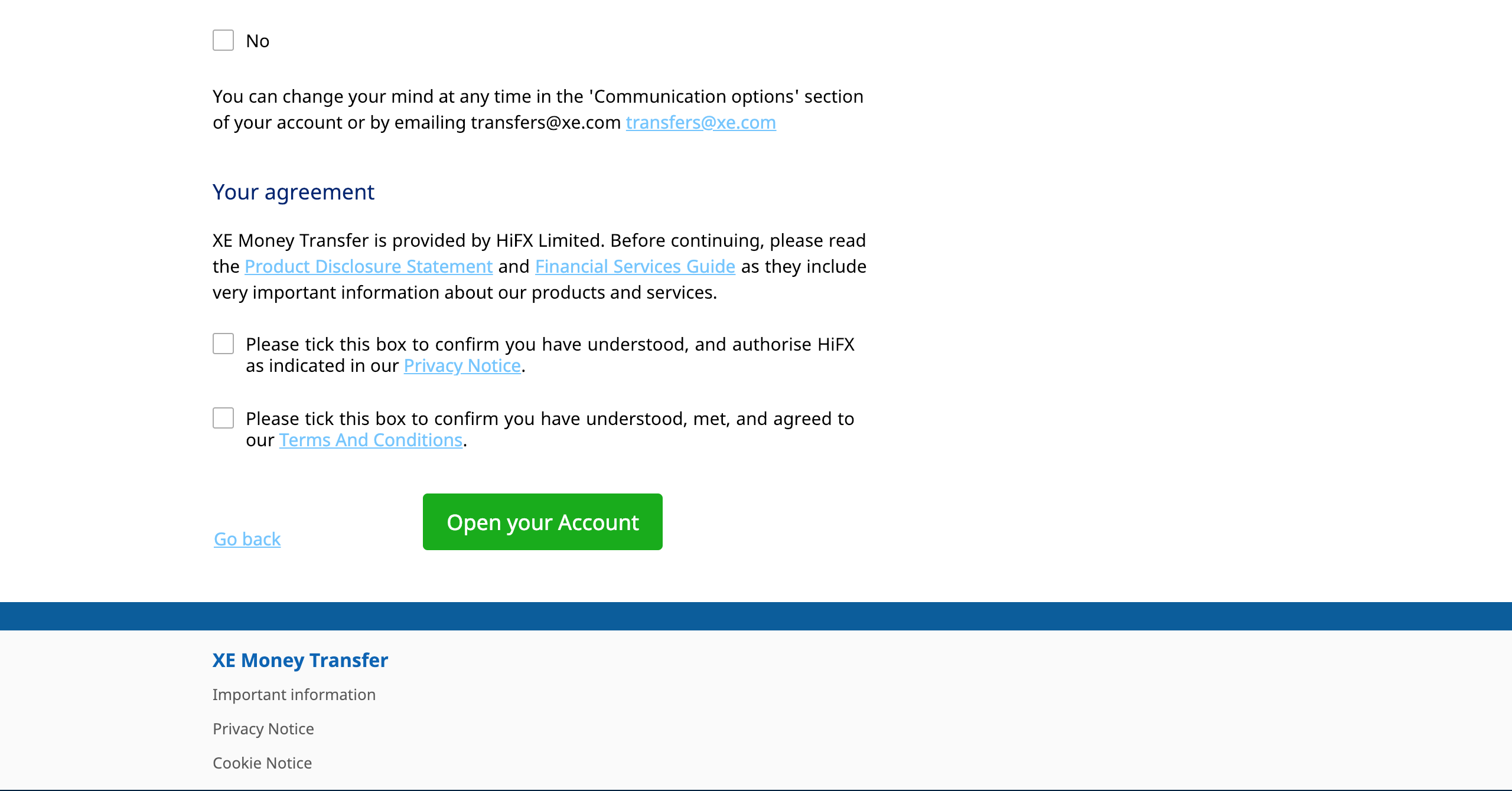 When you create your account for the first time, you will need to verify your account via email. This is what you'll see once you have created your account and had it verified. Once you have been directed here, you will be able to see an option to make a new transfer at the top of the screen.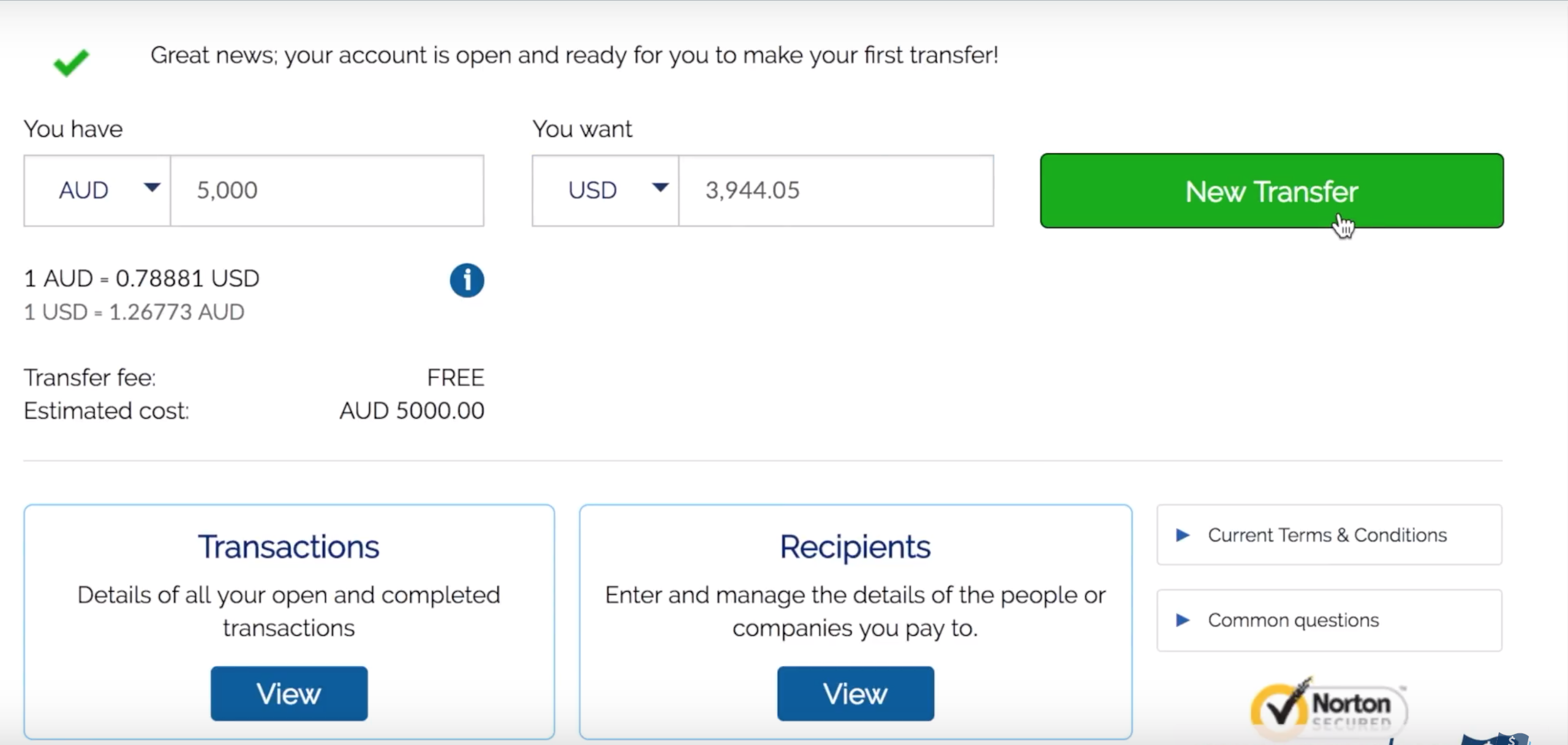 Step 5: Beginning your transfer
The following steps will lead to you making your international money transfer. It's important not to fill out the details completely until you are ready to make and pay for your transfer. You will need the following information for making an international money transfer using XE.
Recipients information: their bank details, including any additional information such as an IBAN if you are transferring to Europe, SWIFT if you're transferring to Australia or routing number if you're transferring to the USA. You will also need to provide their contact details and the contact details of their bank.
How you would like to pay: XE accept payment via bank transfer, and BPAY if you're making the transfer from Australia.
Step 6: Order confirmation
Once your order has been confirmed, XE will keep you updated via email and text message. You can also track your order 24/7 by logging into your account. XE customer service is available during weekday business hours.
Read our review of XE Money Transfers
More information about transferring money overseas with XE
How much it costs
This is one of the important factors you need to take into account when transferring money overseas; how much the process will cost.
It doesn't cost anything to open or maintain an account with XE and they do not charge any transfer fees. Which means they do not add an additional fee to the exchange rate they offer you. It's important to note though, that while XE show you the interbank rate on their home page, they do add a margin to the exchange rate when they offer it to you for a transfer. This means, there is a difference between the rate that the two currencies are actually trading at and what you will get for your transfer. You can read this article about the difference between the interbank, or actual exchange rate, here.
How long it takes
The time your transfer takes depends on where you're sending the money to, how you're funding the transfer and how the recipient is receiving it. All of these should be taken into consideration when making the transfer. Especially if you have a deadline for the payment. It is good to know though, that you can access your account and monitor your transfer 24/7. Additionally, XE will send you notifications via SMS to let you know how it is tracking.
Pros of transferring money overseas with XE
XE is a very well known and trusted brand when it comes to currency exchange. It is often the 'go to' resource for exchange rates.

As we discussed previously, there are no additional money transfer fees when using XE.

They have accessible customer service that is available throughout weekday business hours. 

The website itself is a great tool to keep track of international currency exchange rates, for multiple currencies.
Cons of transferring money overseas with XE
While XE compare exchange rates for hundreds of currencies, they have a limited list of currencies they can actually transfer.
XE customer service is only available through business hours, which is frustrating if you run into a roadblock on a weekend or out of hours making your transfer.
XE doesn't accept payment via credit card, cash or cheque.
Additional information about transferring money overseas with XE
XE IBAN
IBAN is a number used by European banks when receiving an international money transfer. As a result, you may need an IBAN for the bank your recipient uses, if you a making a transfer to a European country but XE does not have one. The necessary IBAN should be found on the recipients bank website, or the recipient should be able to provide it to you.
XE routing number
In a similar way, routing numbers are used by US banks. So this will be necessary when making a transfer to the United States. XE does not having a routing number themselves. Refer to your recipient's bank website or ask them to provide it to you.
Available currencies
XE's available currencies can be found on their website but are also listed below.
Australian Dollar (AUD)
Bahraini Dinar (BHD)
Basotho Loti (LSL)
Brazilian real (BRL)
Botswana Pula (BWP)
Canadian dollars (CND)
Chilean peso (CLP)
Colombian peso (COP)
Emirati Dirham (AED)
Euro (EUR)
Fijian Dollar (FJD)
Great british pound (GPB)
Hong Kong Dollar (HKD)
Jordanian Dinar (JOD)
Kenyan Shilling (KES)
Kuwaiti Dinar (KWD)
Mauritian Rupee (MUR)
Mexican peso (MXN)
New Zealand Dollar (NZD)
Omani Rial (OMR)
Philippine Peso (PHP)
Qatari Riyal (QAR)
Saudi Arabian Riyal (SAR)
South African rand (ZAR)
Swazi Lilangeni (SZL)
Thai Baht (THB)
Tunisian Dinar (TND)
US dollars (USD)
View currency exchange rates from XE
As the 'go to' tool for currency exchange rates, it's important to remember that the rates shown on the XE homepage are the interbank rate. This means it is the rate before XE have applied their margin.
The best way to find out the exchange rate you would get for a transfer with XE is to sign up for an account and get a quote. You can read our article about currency exchange with XE here.
Summary
And that's it! That is everything you need to know about making an international money transfer with XE. Here at The Currency Shop, we strive to give you the right information to help you and the person receiving the transfer, save money and help you make an informed choice for all your currency exchange needs.
The next time you or someone else needs to send money internationally, check how much you can save using our money transfer comparison tool.