How to Transfer Money with CurrencyFair: A Beginners Guide
Need to know how to transfer money overseas with CurrencyFair but confused? We have the answers you need in one article.
CurrencyFair is a good option and one that offers low rates and an easy to use, simple process. They have the option to send now or later, and is one of the few companies that offer this as a way of giving the customer control of their money transfer.
If you want to learn about the different ways to transfer money with CurrencyFair, then read on. This article covers:
How to transfer money with CurrencyFair?
Transferring money with CurrencyFair is easy and simple. Unlike some other transfer services, CurrencyFair use simple language and layout on their website and app, making the sign up and transfer process less than daunting. Here are the steps:
Step 1 - Open an account
To transfer money using CurrencyFair, you'll need to set up an account. To do this, you simply visit here and choose whether you want to open a Personal or Business account.

Step 2 - Choose how to transfer your money
CurrencyFair offers two options to exchange your money:
Send money now at the best available rate
Create top up to send money later at a better rate using their peer-to-peer service
The next page will allow you to start creating your account. You'll type in the email address you would like associated with the account, and create a secure password, which you will use to access the account in the future. You should create a password you don't use for anything else. Security is very important when it comes to transferring money internationally.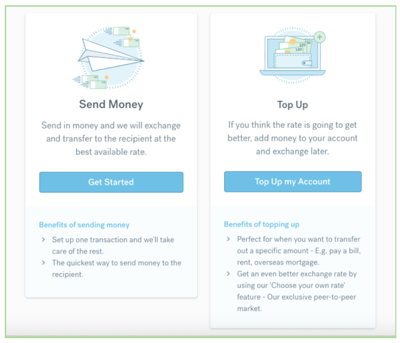 What is their peer-to-peer service?
The peer-to-peer service is unique to CurrencyFair and is a service that offers more control to its customers than other competitors can offer. By offering two routes, it gives the customer a choice of time or better value.
Fully transparent, you set the rate you want to transfer your money with and if CurrencyFair can locate a customer looking to transfer in the other direction, they can accept your rate which you will then both benefit from.
For those not in a rush and wish to get absolute value when they want to send money, then the peer-to-peer service is a good way to get more for your buck. Note that this isn't always guaranteed, and relies on someone accepting your rate and looking to transfer their money in the opposite direction.
For more information on peer to peer click here.
Step 3 - Providing details
Once you've chosen how you want to transfer your money, you'll then be asked to provide some further information which allows CurrencyFair to tailor their services better to you.
Firstly, you will need to provide some more personal details to CurrencyFair. This includes:
Your date of birth
Your address
Your occupation
Your gross annual income
You will then be asked to provide further details about how you wish to use CurrencyFair, such as:
Average transaction size
How often you intend to use CurrencyFair
What currencies you intend to exchange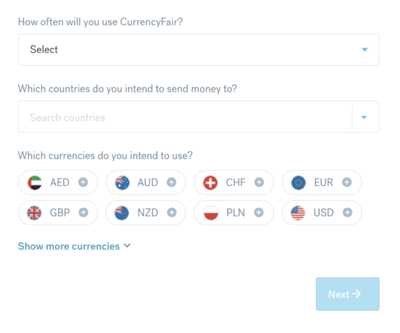 Step 4 - Providing transaction details and bank account information
To complete your transfer, you will need to enter transaction details:
How much you wish to send, or
How much you wish your recipient to receive
On this page, you'll also see the fee and exchange rate the CurrencyFair applies to your transaction.
Step 5 - Upload requested documents for verification
CurrencyFair have designed their set up process so they can gather all the information they need from you to fully activate your account and follow the anti-money laundering regulations. You will be required to upload:
Proof of address
Your passport or Driver's License
If they cannot approve the information electronically, CurrencyFair may ask for more documentation.
Step 6 - Send money to your CurrencyFair account once approved
Once you've entered all of the required details, you will need to complete the last step to transfer your money from your bank account to your CurrencyFair account. This will be then automatically sent onto your recipient, applying the exchange rate and fee that you have agreed to.
Your transfer will then be completed in 2-5 business days.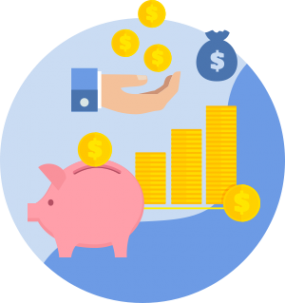 CurrencyFair will apply a %E2%82%AC3 flat fee to all money transfers plus a percentage added to the margin. This is 0.45%.
If you wish to wait for a better exchange rate, then you will need to match with another CurrencyFair customer and the fee applied here will vary between 0.25-0.3%. If you do not find a match, CurrencyFair will match with you but charge you a higher fee of 0.4-0.6%.
Read here for more information on fees from CurrencyFair.
CurrencyFair supports 21 currencies for you to exchange from and to, reaching over 150 countries. This includes all popular currencies and a number of others globally. Read here for the full list of the currencies CurrencyFair supports.
How long does it take to transfer money with CurrencyFair?
The length of time it takes to complete your transaction varies. Exchange process times can change depending on your bank and time of transfer.
CurrencyFair state they clear the money as soon as it reaches your account, so collectively the time taken to complete the transfer will be dependent on factors such as your bank account and the recipient's.
On average, a transfer takes 2-5 business days. Read here to find out more information on CurrencyFair overseas money transfer speed times.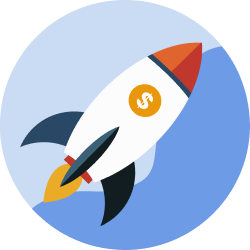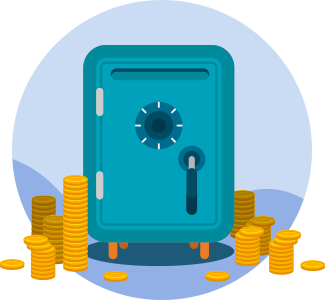 Yes, CurrencyFair is very safe and secure. It is regulated by the Central Bank of Ireland and is a Corporate Authorised Representative of Australia Pty Ltd, regulated in Australia by ASIC. It has an AFS license number and all rights reserved by CurrencyFair Australia Pty Ltd.
That all means that CurrencyFair is required to keep your money separate from their own. Watch the "Is your money safe" with CurrencyFair here.
How does CurrencyFair place with competitors?
CurrencyFair offers competitive rates and low fees so it can attract customers over alternative foreign exchange companies such as Wise, InstaReM and OFX.
It offers:
Easy to navigate website and mobile app
Transparent information and fees before you commit
21 currencies to over 150 countries
Options on how you wish to exchange your money
It also has a very high TrustPilot rating (4.8 out of 5 stars)
However, where CurrencyFair falls behind is if you're looking to send money fast or to a less popular country and currency. It has a:
Limited number of supported currencies compared to other providers
Can take longer than other providers to complete your international exchange
We hope the above information has helped you to understand more on how to transfer with CurrencyFair.
Read our CurrencyFair review if you would like more information about CurrencyFair.