Best ways to make payments to foreign contractors? Convenient and Fast Options [2022]
If you're an entrepreneur or run a small business, you may work with international contractors on a one off or long term basis. Recruiting global talent can be a smart way to find the perfect people for your team, reach new markets, and work across timezones.
However, when it comes to paying international contractors you'll need to make sure you're picking the right payment method for both you and them, to cut fees and make sure they're getting their money as quickly and safely as possible.
Here's our guide to some of the best and most commonly used ways to make payments to contractors outside of Australia:
Key points
We'll look at the primary options for paying contractors in a different currency – and their advantages and disadvantages – including:
Send an international wire payment from your bank – international wire transfers might be the most accessible option for making international payments, but they are complex and sometimes costly. More on that later
Choose a multi-currency account for more flexibility – a multi currency account might be the better option if you pay freelancers in various currencies or have a global business
Pick a popular online payment solution – PayPal is popular among international freelancers but it can be expensive and many of the costs involved aren't so clear upfront
Foreign payments through a bank account
Your bank might be the obvious place to start if you're planning on making a payment to a contractor based overseas. Most banks in Australia will offer international payments of one type or another, which will generally be processed through the SWIFT network. This is a long established and reliable way of moving money across borders – but it's not necessarily fast or cheap.
When you send money with your normal bank you may pay up to 3 different fee types:
Upfront transfer fee – this may be fairly low if you arrange your transfer online
Exchange rate markup – a percentage added onto the rate used, often the most costly of all 3 fees
Third party fees – usually because of the SWIFT network
Most Australian banks offer a relatively low upfront transfer fee if you use the online and mobile banking service. You may even find there's no fee at all for some currencies. However, that may well just mean there's a fairly high exchange rate markup added to the rate applied to convert your funds. This can creep up fairly fast, especially in higher value payments.
The final thing to watch out for is third party costs. SWIFT payments are passed through intermediary banks on the way to the destination country, and these intermediaries can deduct fees as they handle your transfer, in addition to the upfront transfer fee you've already paid. Depending on who you bank with, you may find your own bank absorbs these charges. Either way, this process can slow down your payment, and mean SWIFT transfers take 3 – 5 days to get to their destination.
Pros and cons of using a bank transfer for international payments
Pros:
Familiar and reliable
You can usually send online or in branch
Most banks offer payments to a good range of countries and currencies
Cons:
Overall costs including exchange rate markup can be high
Slow delivery times are common
Multi-currency account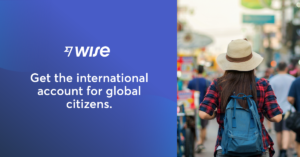 If your business trades globally, or if you have suppliers, employees or contractors overseas, a multi-currency account from a provider like Wise Business or Revolut can help you cut costs and manage your money more conveniently.
Multi-currency accounts let you hold and exchange a range of currencies, so you can pay and get paid easily. If you're receiving foreign currency payments from others you don't need to convert back to Australian dollars immediately, so you can hold a foreign currency balance and then convert it back when the rates look good, or use it to pay overseas contractors when your bills are due. This cuts down on exchange fees and means you're at less risk from abrupt changes in the foreign exchange markets.
Different multi-currency account providers have their own features and fees, but for a low fee, flexible option, it's worth checking out Wise Business. Here's what you'll get:
Open a full digital business account for a one time 22 AUD fee
Hold and exchange 50+ currencies, with the mid-market exchange rate every time
Get local bank details to get paid fee free from 30+ countries
Send money to 80+ countries with the mid-market exchange rate
Linked debit cards for you and your team
Batch payments, cloud accounting integrations and more
Pros and cons of the Wise multi-currency account
Pros:
No monthly fees or minimum balance
You'll always get the mid-market exchange rate
Hold, send, spend and receive payments in a broad range of currencies
Cons:
No branch service
Accounts aren't interest bearing
Learn more
PayPal to pay foreign contractors abroad
PayPal is a fast and easy way to send money to anyone at home or abroad – and with such a massive user base, the chances are that your contractor already has an active PayPal account too. Sending a PayPal payment is as simple as entering the contractor's email address, and the money is usually received instantly into their PayPal account. However, when you're using PayPal for international transactions in particular, it's worth checking through all the fees that will apply – either to you or to your contractor when they receive the money in the end.
The exact costs you pay for sending money with PayPal will depend on your account type. How you fund the transfer and where it's going also can make a difference to the charges. But whenever you're sending money with PayPal overseas, the one major charge to watch out for will be the currency conversion charge. If you're sending money to someone so they receive it in their home currency, the chances are you'll pay this fee. If you send AUD to someone based overseas, they can receive it in their PayPal account, but they'll ultimately need to pay the conversion themselves when they withdraw the funds, meaning they get less than they expected in the end.
If you're based in Australia, PayPal's currency conversion charge in most cases will be 3% – 4%. That doesn't sound like a lot, but it can add up fast, especially when you take into account any other charges for sending the transfer – and anything your contractor needs to pay to withdraw the funds at their end too.
Pros and cons of using PayPal
Pros:
Fast and convenient payments
Even if your contractor doesn't have a PayPal account yet, they're easy to open
Money can be sent to more or less any country in the world
Cons:
Currency conversion fees can be high
Extra charges may apply to send the payment, and for the contractor to withdraw it in the end
Find here more alternatives to PayPal
What to consider before paying independent contractors
If you're new to hiring international contractors, you may want to take some professional advice to make sure you're complying with ATO rules, as well as any other legal or contractual obligations you may have here or in the contractor's home country. Here are a few things to think about.
The first consideration when working with contractors – at home or abroad – is to confirm that they're legally contractors rather than employees. While that may sound a bit obvious, there are strict ATO rules, and your obligations change based on the worker's status. Penalties can be applied if you get it wrong.
Use ATO guidance to determine whether your worker is a contractor, as this will also guide how you report payments, file tax forms, and whether or not you have duties around tax withholding or super payment.
Once you've squared off your tax situation, you need to make sure you're very clear on the deal you've set with your contractor. This means having very specific payment terms and conditions written into your contract before work begins. Make sure you think about payment methods, currencies, and what happens if work is late or not as you'd expected. Having everything set out in writing in advance reduces the chances of things going wrong down the line significantly.
Finally, agree payment deadlines with your contractor. This again helps to make sure there are no misunderstandings, and also establishes a trusting and professional relationship. Find a reliable and fast way to make your transfers to international contractors when payment comes due, to make sure you stick to the agreed deadlines.
Benefits of hiring international contractors
As the world becomes a more connected place – and thanks to the gig economy being well and truly established now – hiring international contractors on a long or short term basis is a smart move for many businesses. Even if you're relatively new to running your company, you could still benefit from working with contractors overseas:
You can build a more flexible team by bringing in contractors as and when you need them
Find the perfect fit by fishing in the widest possible talent pool
Grow your business globally and have team members closer to your customers and suppliers
Recruiting talent internationally can be very cost efficient
Conclusion
Hiring contractors as international talent can mean you bring the best possible people into your team as and when you need them, to grow your company here and abroad. However, handling payments to international contractors can take some thinking about. Use this guide as a way to fund the best methods for your business, to make sure you can pay your contractors on time, and without unnecessary fees or currency conversion costs.
Try the Wise Business account
FAQ
How do I pay someone from another country?
Popular options to pay overseas contractors include international bank wires, multi-currency accounts and payment gateways like PayPal. Compare a few to see which works best for you.
Can an Australian company pay a foreign contractor?
Yes. However, depending on the worker's status you may have tax and reporting obligations – take ATO advice to make sure you stay on the right side of the law.
Are overseas contractors tax exempt?
Generally contractors are responsible for most of their own tax matters, but you may still have obligations to report payments or pay some benefits. Get professional advice before you start employing overseas contractors to check how the law applies in your specific situation.
Can you hire someone from another country to work remotely?
Yes. Hiring remote workers overseas can be a really helpful way to add talent to your business and reach international markets.