How to Receive Money from Overseas Using Wise
Since the introduction of the Borderless account, Wise (formerly known as TransferWise) has changed the way you can receive money from overseas. It has made it much simpler and less expensive. There are some important restrictions that you should know of before you get started. What hasn't changed is the exchange rates and fee structure. It's still a very low cost way to receive foreign currency from anyone around the world.
By the end of this article you should have a much better idea of how to receive an international money transfer with Wise.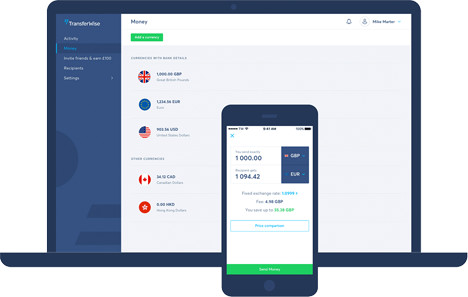 How to receive money from overseas with Wise (formerly known as TransferWise)
1. Set up a Wise account
You need to be a customer of Wise to use their services. Wise accounts can be created online.
You will need to provide your name, address, contact details and email.
Verify your identity. This means providing proof of ID and proof of address, both of which can be uploaded through their website.
Proof of ID is provided by a recognised photo ID like a driver's license, national ID card or passport.
Proof of address is provided by official correspondence from a reputable organisation.
Wise may require certain other types of verification, for example for a business account.
2. Use your Borderless Account to receive money
Once your account with Wise has been set up, you are ready to receive money. Here's how to do it:
Login and go to the Balances section of the Borderless Account.
"Add" the balance in the currency you want to receive the money to.
Get your bank details by clicking on the currency and give them to the person that is paying you.
Learn more about how it works
What currencies you can receive from Wise
It's important to understand that you can use the Borderless account to receive only these currencies using a local bank account:
US Dollars (USD)
Euros (EUR)
British Pounds (GBP)
Australian Dollars (AUD)
New Zealand Dollars (NZD)
Singapore Dollars (SGD)
Polish Zloty (PLN)
In these currencies, you can send your Borderless account bank details to the person sending you the money. They can then pay the currency into your account, free of charge and without any currency conversion fees.
Receiving other currencies
If you need to receive money in any other currency, you can still use the Borderless account, but there is a big difference. The currency you receive will be converted.
An example of receiving Canadian dollars using Wise
John opens an account with Wise and needs to receive $400 Canadian dollars from a friend overseas.
He opens a Borderless account and gets his US Dollar bank details and gives it to his friend.
His friend pays the 400 Canadian dollars into his US dollar account and Wise converts it to 296.89 US dollars and charges John a small fee.
Not everyone one can receive money from Wise
You can open a Borderless account from most countries in the world, but there are some exceptions:
Countries where you can't get a borderless account
Afghanistan
Burundi
Central African Republic
Chad
Congo Republic
Crimea (sub-territory)
Cuba
Democratic Republic of the Congo
Eritrea
Hong Kong
India
Iran
Iraq
Japan
Libya
Malaysia
North Korea
Sevastopol (city)
Somalia
Republic of South Sudan
Sudan
Syrian Arab Republic
Venezuela
Yemen
US States where you can't get a borderless account
How much it costs
Wise fees depend on two things:
The amount the sender is transferring — the Wise fee is worked out as a percentage of the amount they are sending which varies from currency to currency.
How they pay — some payment methods, like debit and credit cards, come with an extra fee that's set by the card provider or bank, not by Wise.
Unlike many other providers and banks, Wise does not get any commission at all from the exchange rate they provide. They offer the same mid-market rates that banks use to exchange currency and there is no markup on the exchange rates. This typically means the overall cost of a transfer is lower, and you receive more money compared to alternative methods.
Will you have to pay any fees as the receiver?
As the receiver, you may pay receiving bank fees. International money transfers sent to or from an overseas bank may be subject to commissions, fees, and other charges applied by your bank. These are typically deducted by the bank where you have your account from the funds paid to you, which means you might get less money into your account.
*All details shown above are correct as of August 2020.
How long it takes
This is dependent on the country you're receiving money from, and the currency the sender is using. Funds are normally deposited into your Wise account within 1-3 working days.
Advantages of sending money internationally with Wise
Very fast and convenient.
It's a simple and straightforward process.
You can request money directly from the sender.
Sender can make transfers online.
Much less expensive than using a bank or PayPal.
Receive money from over 40 countries and 20 currencies around the world.
Sender can fund transfers via bank transfer, debit card or credit card.
In some cases they can fund transfers by Apple Pay or Android Pay.
Disadvantages of transferring money abroad with Wise
They do not accept or make payments via cash or check.
There are sometimes small, additional fees for paying with a debit or credit card.
Additional information for receiving money with Wise
There are a lot of numbers and information you hear about when it comes to international money transfers. Below there are extra details you might need to receive money and the things you don't.
Wise IBAN number
IBAN is an account format used by European banks. Australian banks do not use this format and an IBAN is not required to send money to an Australian bank account via Wise. Other parties with an IBAN field on their overseas payment form can simply leave this field blank. If you're receiving money from Europe using Wise, you may need an IBAN. Wise will provide this for you.
Wise routing number
If the other party requests a National Clearing Code, Routing Number, BSB Number or Sort Code, you should use the first six digits (bank and branch codes) of your account number for which you wish to receive the payment into. For example, if the account number is 01-0123-0123456-00 use 010123.
Currency exchange rates for Wise
Rates for transferring funds internationally through Wise are available through their currency converter.
The currency exchange rate your sender will get does vary from moment to moment.
They will get the up-to-date, dynamic rate when you are booking your transfer.
Further Wise information from The Currency Shop
The Borderless Account comes with a Wise Debit Card which is particularly useful if you want to spend the money you've received
You can use Wise to transfer the money you received to another account.
Wise provides a mobile application for both Apple and Android devices.
Wise will keep the sender informed of the status of their money transfer transaction. They typically send emails at the following times:

Completion of the transfer order.
Transfer payment received by Wise.
Recipient money transferred into their bank account.

Wise lets the sender guarantee to send you a certain amount, regardless if the exchange rate fluctuates. They pay a small additional fee and any existing money that isn't used to pay for the transfer (due to exchange rate changes) are refunded back to them.
If the exchange rate fluctuates by more than 3% after they fund the transfer, Wise will pause it and contact the sender to see if they want to proceed.
Wise disclaimers
Wise does not check payment details.
If payment details are incorrect it may result in an unsuccessful transfer or the wrong account receiving funds. It is pivotal that you provide the correct details to the person making the payment. This will save time for both parties and ensure you receive your payment without any issues.
How Wise can get you more money versus a bank
You might wonder why the sender wouldn't send money via their bank instead of a dedicated money transfer provider, and the answer is a simple one — cost. Currency exchange specialists are able to give better exchange rates and lower fees than banks, resulting in more money for you.
For example, here's how much you can save receiving money via Wise rather than a couple of popular Australian banks.
Converting £3,000 GBP to AUD
With Wise you get the most money — $5,450 AUD.
With Westpac you get $5,244 AUD — $204 less.
With CommBank you get $5,219 AUD — $231 less.
Converting £25,000 GBP to AUD
With Wise you get the most money — $45,419 AUD.
With Westpac you get $43,699 AUD — $1,720 less.
With CommBank you get $43,573 AUD — $1,846 less.
*All details shown above are correct as of August 2020.
If your sender uses a dedicated money transfer service like WorldFirst, Wise, OFX or another dedicated currency exchange provider, they could save you hundreds of dollars on a transaction. To see how much they could save, get them to take a look at our free online comparison tool.