Best Ways to Take Money to China in 2023
China is a huge and varied country, and reopened fully to tourists in March 2023 after Covid restrictions and closures. At the time of writing, visitor arrivals in China are still on the low side - thought to be only around one quarter of the numbers experienced pre-pandemic. If you're looking for an adventure somewhere new, a trip to China could be the perfect pick, with some decent bargains to be had as the tourism industry starts to re-emerge.
If you're planning a trip to China you'll need ways to pay for things once you're there. This guide runs through the benefits and drawbacks of 4 possible ways to take money to China so you can find the one that suits your specific needs best. 
Best ways to take money to China
In this guide we'll walk through 4 of the most practical and popular ways to take money to China, including our top picks for providers to look at, pros and cons. Here are the common ways to pay overseas that we'll investigate:
Prepaid travel cards to use in China
Ideal for: convenient spending and withdrawals in the local currency, in China and elsewhere 
Prepaid travel cards are usually available online from specialist providers. You'll need to register an account and order your card to be delivered to your home. Once you have your card you can add money to the linked digital multi-currency account in AUD or CNY, to spend once you arrive in China. Some cards allow you to choose to either convert your money to Chinese yuan before your trip, while others let you hold your balance in AUD and just calculate the conversion at the point of payment instead.
It's helpful to know that mobile wallet payments are one of the most popular options in China, so using a travel prepaid card alongside either an international wallet like Apple Pay or a Chinese mobile wallet like We Chat Pay could be a good solution. Bear in mind that international wallets aren't as commonly used as the popular local wallet solutions, though.
To get the most out of your prepaid travel card, pick one which supports a wide selection of currencies for holding and exchange, with fair exchange rates and low fees. In particular, it's worth choosing a card with no inactivity fee and no ongoing charges, so you can hold on to it to  use it on future foreign trips, too.
Learn more about our picks for the 6 best prepaid cards.
Wise - our pick for prepaid travel card
With this card:
Hold and exchange 40+ currencies in your linked Wise account

No annual or monthly fees to pay, and no minimum balance requirement

Currency exchange uses the mid-market rate with no markup

Some free ATM withdrawals available every month

Virtual and physical cards available
Wise card pros

Wise card cons

✅ Currency exchange uses the mid-market rate

✅ No foreign transaction fees apply

✅ Free to hold and spend 40+ currencies

✅ Receive payments to your Wise account in a selection of global currencies

✅ No minimum balance or ongoing fees

❌ 10 AUD fee to get a card in the first place

❌ Free ATM withdrawals are limits to 2 per month, to the value of 350 AUD. Fees of 2% + 1.5 AUD after that

❌ Express delivery fees if you want to get your card as soon as possible
Pros and cons of taking money to China with a prepaid travel card
Pros:
Convenient for spending in CNY and a selection of other currencies

Some cards have some fee free ATM withdrawals available 

Secure as not linked to your everyday AUD account

Many cards have no minimum balance amount and no ongoing fees to pay

Cards are available which offer currency exchange at the mid-market exchange rate with no markup
Cons:
Inactivity fees and exchange rate markups may apply depending on the card you select 

ATM fees apply to some cards, particularly if you make frequent withdrawals and exhaust your fair usage allowances

Some cards charge a fee if you spend in an unsupported currency, or if you spend a currency you don't hold in your account already
Travel debit cards to use in China
Ideal for: easy ways to spend in China, with ways to get travel perks like free global wifi, airport lounge access or insurance 
Travel debit cards are convenient for use globally, and can also offer distinct travel-focused benefits. These may be perks like free airport lounge access - and can also include ways to save money, such as some currency conversion with no fees to pay.
Generally travel debit cards also have a linked multi-currency account which you can use to hold, spend and withdraw in a broad selection of foreign currencies conveniently. However, CNY isn't universally supported for holding, so you'll need to check the details of the card you select. If you can't hold CNY on your card, you'll still be able to use it for spending in China. Just add money in AUD and the card will convert to CNY when you spend or withdraw.
Cards from specialist services aren't connected to your everyday AUD account, which adds peace of mind. In practice this means that even if the travel card was stolen, your normal account and card is secure and thieves have no access to your main bank account. 
We'll go into more detail about our top pick for a travel debit card - Revolut - next, and you can also read more about the best travel debit cards in Australia here.
Revolut - our pick for travel debit card
With this card:
Hold and exchange 25+ currencies

Choose the account plan that suits your needs and spending, including some with no monthly fees

Some no- fee ATM withdrawals and currency exchange with the mid-market rate, based on the account tier you choose

Extra perks like accounts for under 18s, plus cash back on card spending for top tier account holders

Travel benefits offered for some account plans
Revolut card pros
Revolut card cons

✅ Hold and exchange 25+ currencies

✅ Choose from different account tiers to suit different customer needs

✅ Get some no fee ATM withdrawals every month, depending on the plan you pick

✅ Get some currency exchange every month which uses the mid-market rate - limits vary by account plan

✅ No card order fee

❌ Ongoing fees apply for some account tiers

❌ Out of hours fees push up currency exchange costs on the weekend

❌ ATM fees of 2% apply once you exhaust your no fee withdrawals
Pros and cons of taking money to China with a travel debit card
Pros:
Cards may have travel benefits and perks, and ways to cut the cost of spending overseas

Available for withdrawals from international ATMs so you don't have to carry a lot of cash at any one time

No interest or penalty fees - just top up the amount you want to spend and you're done

Not connected to your main AUD account, adding a layer of security when you're overseas
Cons:
Not all cards allow you to hold and exchange CNY

Unlike with a credit card you'll need to fund your account upfront

Some cards have monthly fees to pay to get full feature access
Taking cash to China
Ideal for: a back up plan for the odd occasion when your card can't be used, and for travel to more remote places 
China is on a mission to become a cashless society - a journey which was significantly accelerated during the Covid pandemic when consumers moved to contactless payments to improve hygiene. Many transactions in China are carried out with a card or using a mobile wallet - We Chat Pay and Ali Pay are the most popular, and can now be used by foreign visitors too.
All that said, having some cash is reassuring when you're abroad, so taking some yuan with you is probably a smart move. You may prefer to use cash for low value purchases or when shopping in markets. 
Generally, carrying cash in China is best as a back up plan if your card isn't available for some reason. You'll be able to get Chinese yuan in cash at home through a money changer, carry AUD cash with you and exchange it in China once you arrive, or make a quick ATM withdrawal at the airport when you land.
In fact, using ATMs for your travel cash is a smart balance as you won't need to carry too much cash all at once, and you can generally find a handy ATM whenever you're in a town or tourist area.
Cash pros
Cash cons

✅ Great as a back up plan in case your card isn't available 

✅ Convert in advance or take AUD and switch on arrival

✅ Set your budget in advance so you know exactly what you have to spend

❌ Carrying a lot of cash isn't safe - tourists are often targeted by petty thieves

❌ You'll have to invest time during your break or in advance, shopping round to get a good deal

❌ Exchange rates vary widely and usually include a markup - an extra fee
Do I need cash in China?
While the majority of payments in China - even in more rural areas - are made with cards or mobile wallets, having some cash for tipping and small purchases is still a smart move.
You don't need to plan your travel money too carefully - just get your cash from an ATM when you arrive. If you use a prepaid card or travel debit card for ATM withdrawals you'll also often net a great exchange rate and low fees, too.
How to buy CNY on arrival in China?
You shouldn't have any problem exchanging AUD to CNY when you arrive in China, as long as you carry clean, crisp and undamaged notes. Money changing services which are common anywhere you find tourists - but you'll need to invest some time in shopping around and compare a few based on exchange rates and fees to get the best available deal.
How to buy CNY in China?
Another option is to exchange AUD to Chinese yuan in advance before you leave Australia. Providers like Travelex let you order the CNY cash you need online and either collect in a branch or have it delivered to home. Exchange rates are likely to include a markup.
Best place to get yuan from
There's no single best place to get your travel cash - it'll all depend on where you're heading and how good a rate you can find either at home or on arrival. Compare a few options and bear in mind that it's usually worth avoiding currency exchange in the airport or in your hotel.
Travel credit cards to use in China
Ideal for: secure payments which earn rewards and perks, also handy when you need a payment guarantee to check into a hotel
As we've seen, card payments are often accepted in China. If you plan to use a credit card rather than a debit card, it's worth getting one which lets you earn rewards and cash back when you spend in foreign currencies. You might also find cards aimed at travellers which have low or no foreign transaction fees, airport lounge access or complimentary insurance. 
Compare the costs and benefits of the cards you're interested in - bearing in mind that credit cards can mean paying slightly more overall when you spend. Having a credit card with you when you travel as a payment guarantee for when you hire a car or check into a hotel can be handy, as long as you've picked a card which doesn't have too many fees to pay.
Learn about the best travel credit cards in Australia here, and read on for more on our top pick.
28 Degrees - our pick for travel credit card
With this card:
Order online and start spending with your virtual card instantly if approved

No annual or monthly fees

No foreign transaction or currency conversion fees

Make ATM withdrawals overseas - fees apply for this service 

Unlock perks like discounts on travel bookings and internet roaming packages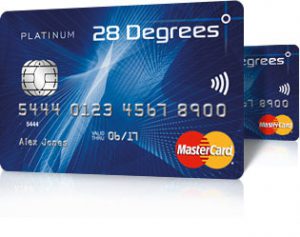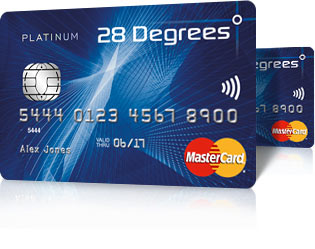 28 Degrees pros

28 Degrees cons

✅ No annual or monthly fees

✅ No foreign transaction fees - your payment is converted to AUD using the Mastercard exchange rate

✅ Repay your bill in full monthly to avoid interest or penalty fees

✅ Travel perks and partner discounts available

❌ Cash advance fee of 3% or 4 AUD (whichever is greater), plus interest, when making an ATM withdrawal

❌ Interest charges apply if you don't repay your bill in full monthly

❌ Subject to eligibility and credit checks
Pros and cons of travel credit cards to China
Pros:
Earn rewards and discounts, or get travel perks - depending on the card you pick

Spread your costs out over a few months

Some cards have low or no foreign transaction fees

Credit cards are useful as a payment guarantee in some situations
Cons:
Interest and fees usually apply if you don't pay back your bill immediately

Cash advance and interest costs apply when using an ATM

Eligibility rules apply
Travel requirements from Australia to China
You'll usually need a visa to enter China. In some cases you may be able to get a visa on arrival, but this service isn't fully operational at the time of writing. The range of Chinese visas, and the terms and conditions for getting a visa, visa waiver or visa on arrival are pretty complicated, so you'll need to invest some time researching what exactly is needed in your specific situation.
Australians, for example, travelling to Hainan Island or the Pearl River Delta, may be exempted from a visa for a short visit as long as you're part of an approved travel group. However, for most cases you'll have to apply in advance to get your visa, which can take a few days for processing. 
Check the government's Smart Traveller website to learn more.
Does China accept Australian dollars?
No. You won't be able to spend AUD anywhere in China. If you're carrying Australian dollars with you you'll need to exchange them for CNY in order to spend them.
Best currency to take to China
As you might expect, you can only spend Chinese yuan in China. You can exchange your AUD for Chinese yuan before you travel, make an ATM withdrawal on arrival, or exchange cash in China. If you plan to exchange on arrival you'll be fine to carry AUD. 
How much money do I need per day in China?
China is a large and varied place, so planning your budget will take a bit of effort. Major cities offer high end experiences - which come with a high price tag. In more rural areas and smaller cities you'll find things are much cheaper. To put this in context, in China on average you'll find a cheap meal for one will be about 5 dollars, while  a 3 course lunch for 2 will set you back in the region of 45 AUD, and a single bus ride could be just 0.64 AUD. 
Do some detailed research to see how much things are likely to cost wherever you're headed, so you can plan your budget. Get more detailed cost information by country and city, from Numbeo.com.
How much does it cost to fly from Australia to China?
Flight costs vary widely depending on where in Australia you'll leave from and where exactly you need to be in China . At the time of writing (September 2023), you can find Hainan Airlines flight deals from around just 350 AUD if you don't mind changing planes and making the journey fairly long overall. Direct flights are also available, but here the pricetag will be far higher - starting from around 900 dollars return.
Conclusion
There's no single best way to take money to China. Cards and mobile payments are very widespread, but having some cash can also be reassuring. Carrying one or more cards, including a travel prepaid or debit card, as well as some cash is a good idea for most people. 
Check out specialist travel cards - such as a prepaid travel card from Wise or a travel debit card from Revolut - to use for spending and withdrawals, and to carry alongside your regular debit or credit card, and a little cash. Using a specialist travel card can mean you access lower overall costs when spending overseas compared to using a standard card with a foreign transaction fee - so you can do more on your trip.
Use this guide to decide which option to take money to China will work best for you, based on your own preferences and needs.
FAQs - Best ways to take money to China
Should I exchange money before I travel to China?
You won't necessarily need to exchange money before you travel. Card and mobile wallet payments are widely accepted, and if you need cash, making an ATM withdrawal on arrival in China can work well. It may also be better value overall if you have a travel card from a provider like Wise or Revolut. 
Can I withdraw Chinese yuan from a local ATM?
You can't withdraw Chinese yuan at a normal ATM in Australia, but you'll be able to get CNY from an ATM on arrival easily. Use a travel card and your withdrawal may even be free. 
Are prepaid travel cards a good way to take money to China?
Travel prepaid cards from services like Wise have some great features like multi-currency balances and low or no ATM fees. They can also be a safe way to spend when abroad - consider getting a travel prepaid card to use alongside your other preferred payment methods, to bring down the costs of your trip.
Can I use cash in China?
Yes. Sometimes cash is the easiest way to pay for small purchases and tipping. However, card and mobile wallet usage are actively encouraged in China, so it's worth also having a travel card, to make sure you'll be able to pay no matter what happens.