4 Best Ways to Take Travel Money to the US in 2023
Heading to the US for a holiday, to work, live or study? You'll need to work out the best way to pay for things in USD when you get there. Having a plan ahead of time can mean that you cut your overall spending by finding options with the best available exchange rates and fees - and you'll be sure you're always able to pay in US dollars no matter what you've got planned.
Join us as we walk through 4 possible ways to take money to the US, including their benefits and drawbacks, to help you pick the right way for you. 
Best ways to take money to the US
In this guide we'll walk through 4 of the most practical and popular ways to take money to the US, including our top picks for providers to look at, pros and cons. Here are the common ways to pay overseas that we'll investigate:
Prepaid travel cards to use in the US
Ideal for: easy access to USD to spend with your card, or to get from an ATM if you prefer to use cash - often you'll get great exchange rates and low fees, too
Prepaid travel cards are usually offered by specialist online providers like Wise, or through currency exchange services like Travelex. Order your card online or in a branch - depending on the service you prefer, and top up the card in Australian dollars. You can then convert your balance over to USD for spending once you arrive in the US, or in some cases you can just leave your money as AUD and let the card handle the exchange when you pay for something or make a withdrawal.
Bear in mind that some cards have foreign transaction fees to pay if you spend a currency you don't hold in your account. You could also run into inactivity fees and exchange rate markups, so you'll want to shop around to find the card that's best for your particular needs. Picking a card which has the option to hold multiple currencies is also a smart idea, so you can use it again next time you take a trip overseas.
Learn more about our picks for the 6 best prepaid cards - there's more on our top choice, Wise, next.
Wise - our pick for prepaid travel card
With this card:
Hold and exchange 40+ currencies in your linked Wise account

No annual or monthly fees to pay, and no minimum balance requirement

Currency exchange uses the mid-market rate with no markup

Some free ATM withdrawals available every month

Virtual and physical cards available
Wise card pros
Wise card cons

✅ Currency exchange uses the mid-market rate

✅ No foreign transaction fees apply

✅ Free to hold and spend 40+ currencies

✅ Receive payments to your Wise account in a selection of global currencies

✅ No minimum balance or ongoing fees

❌ 10 AUD fee to get a card in the first place

❌ Free ATM withdrawals are limits to 2 per month, to the value of 350 AUD. Fees of 2% + 1.5 AUD after that

❌ Express delivery fees if you want to get your card as soon as possible
Pros and cons of taking money to the US with a prepaid travel card
Pros:
As a major currency, it's easy to find prepaid cards which support holding USD

Cards often come with linked digital multi-currency accounts

Get a card online, through an app, or in person at a branch, depending on the provider you pick

Cards are available with no minimum balance or ongoing fees to pay

Currency exchange may have better rates than a bank will offer
Cons:
Exchange rates may include a markup on the mid-market rate

ATM fees may apply, depending on the card you pick

Some cards charge a fee if you spend in an unsupported currency, or if you spend a currency you don't hold in your account already
Travel debit cards to use in the US
Ideal for: easy spending and withdrawals abroad - usually with low fees and fair exchange rates, with no interest to pay
You can get a debit card that's designed for travel either from a specialist provider, or through a bank. Both options are worth considering, but they have their own pros and cons. If you have a debit card linked to your bank account which has good travel features, using it is convenient - but carrying your card everywhere on holiday can also be a bit of a risk. Ordering a new card is a bit of a hassle, but you'll know your funds aren't linked to your bank account at all, which can be reassuring. Which is best for you depends on your personal preferences.
Most travel debit cards come with extra perks and benefits, like insurance or airport lounge access. Depending on the provider you pick you may be able to get a card for free, or you may prefer to pay a monthly fee, which normally unlocks extra features such as fee free currency exchange or cash back.
As with prepaid cards, if you're ordering a specialist travel debit card, then picking a card which supports a broad range of currencies rather than just USD will also mean you can use it for the next time you go away. 
We'll go into more detail about our top pick for a travel debit card - Revolut - next, and you can also read more about the best travel debit cards in Australia here.
Revolut - our pick for travel debit card for the US
With this card:
Hold and exchange 25+ currencies, free to spend currencies you hold

Choose the account plan that suits your needs and spending, including some with no monthly fees

Some fee free ATM withdrawals and currency exchange with the mid-market rate, based on the account tier you choose

Extra perks like accounts for under 18s, plus cash back on card spending for top tier account holders

Travel benefits offered for some account plans
Revolut card pros
Revolut card cons

✅ Hold and exchange 25+ currencies, spend currencies you hold for free

✅ Choose from different account tiers to suit different customer needs

✅ Get some free ATM withdrawals every month, depending on the plan you pick

✅ Get some currency exchange every month which uses the mid-market rate - limits vary by account plan

✅ No card order fee

❌ Ongoing fees apply for some account tiers

❌ Out of hours fees push up currency exchange costs on the weekend

❌ ATM fees of 2% apply once you exhaust your free withdrawals
Pros and cons of taking money to the US with a travel debit card
Pros:
Convenient spending and ATM withdrawals in the US and other destinations

Many cards from specialist services are linked to multi-currency accounts you can use on future trips too

No interest or penalty fees - just top up the amount you want to spend and you're done

Not connected to your main AUD account, adding extra security
Cons:
Some transaction fees usually apply

You may pay a fee when converting from one currency to another, which can be rolled up in the exchange rate you get

Some cards have monthly fees to pay to get full feature access
Taking cash in the US
Ideal for: small purchases and tipping, and as a back up plan in case your card is out of action
Recent research found that over 40% of US adults do not use cash at all in a typical week, with cashless payments including cards, contactless and mobile wallets far more common. However, when you're abroad having some cash on you is reassuring - and it can be especially handy in the US for tipping, for example.
You can exchange Australian dollars for US dollars before you travel, or on arrival, if you like, but you'll need to consider the safety implications of carrying a lot of cash with you when you're away. Bear in mind also that currency exchange services are only likely to be available in popular tourist areas and cities - and you might find you struggle to get a good exchange rate in some locations.
Generally the most convenient way to get cash for your trip to the US will be to make ATM withdrawals as and when you need to. This will mean you don't need to carry too much all at once, and if you use a dedicated travel card to make your withdrawal you may cut your overall costs, too.
Cash pros
Cash cons
✅

Handy for tipping and very small purchases

✅ Convert in advance if you want to lock in a rate and set your budget for the US

✅ Set your budget in advance so you know exactly what you have to spend

❌

Carrying a lot of cash might not be particularly safe

❌ You'll usually waste time during your break if you're having to compare costs to get a good deal

❌ Exchange rates vary widely and usually include a markup - an extra fee
Do I need cash in the US?
Having some US dollars in your pocket is a smart plan, in case your card isn't accepted by a particular merchant, or is blocked and rejected for any reason. You'll often want to tip in cash in the US - although many places also now let you tip digitally. Recent research showed that people tend to tip 15% higher digitally - so if you're counting your costs, using cash may be a better solution!
You'll find that it's easy and pretty good value to use a prepaid card or travel debit card to make ATM withdrawals in US dollars once you arrive in the US, often with low or no fees, depending on the card you pick.
How to buy US dollars on arrival in the US?
Exchange your Australian dollars at currency exchange stores in cities, airports, or very popular tourist areas. Bear in mind that airport and hotel currency exchange services are seldom good value.
How to buy US dollars in Australia?
It's also easy to buy US dollars in cash in Australia with a service like Travelex. The most convenient option is to order the travel money cash you need online and collect it in a branch. Fees and exchange rate markups may apply.
Best place to get US dollars from
There's no single best place to get your travel cash. Providers pick their own rates and fees, which can vary widely. Shopping around is essential - remember to look at both any upfront cost and the exchange rate being offered, as there's often an extra charge tucked away in the rate a provider uses for retail customers.
Best way to withdraw money overseas?
Withdrawing money from a local ATM once you arrive in your destination is convenient, and can be safer than carrying a lot of cash all at once - but it can also be expensive.
The exact costs you incur will depend on the specific card you use, including whether it's a credit or debit card. With either card type you'll need to check what foreign transaction fee is levied - this is often about 3% every time you withdraw. If you're using a credit card you'll usually also pay a cash advance fee which is a further percentage charge, and you may start to accrue interest instantly, too.
Getting a travel debit card, like the Wise card, can be a good option for taking money out from ATMs in the local currency. With Wise you get some fee free withdrawals every month, with low costs after that - plus there's no foreign transaction fee, and you'll get the mid-market rate every time.
Related:
How much cash can I take overseas
There's not actually a cash limit for overseas - but you'll need to report to AUSTRAC or at the border if you're exporting currency (AUD or any other currency) of 10,000 AUD or more in value.
In reality, the more cash you carry, the more you're risking if you're unfortunate enough to be the victim of crime. Carrying a small amount of cash, plus one or more cards to make withdrawals as and when you need to, is usually a more sensible option.
Travel credit cards to use in the US
Ideal for: spreading the cost of your travel over several months or earning rewards and miles from your card issuer
Travel credit cards have varied features depending on the specific card. What they usually have in common is that their best features are aimed at frequent travellers and people spending in foreign currencies often. This could mean low or no foreign transaction fees, extra rewards when you spend in foreign currencies, free global wifi, lounge access or complimentary insurance.
If you're using a credit card to earn rewards you'll want to weigh up the costs - annual fees for example. Plus, if you're planning to pay for your trip over a few months, interest will apply which means you spend more in the end. 
That said, there are also times where a credit card is preferred as a payment guarantee, such as when you check into a hotel or rent a car. Bear in mind though, that using a credit card at an ATM is a very expensive option, with cash advance fees and interest mounting up quickly.
Learn about the best travel credit cards in Australia here, and read on for more on our top pick.
28 Degrees - our pick for travel credit card
With this card:
Order online and start spending with your virtual card instantly if approved

No annual or monthly fees

No foreign transaction or currency conversion fees

Make ATM withdrawals overseas - fees apply for this service 

Unlock perks like discounts on travel bookings and internet roaming packages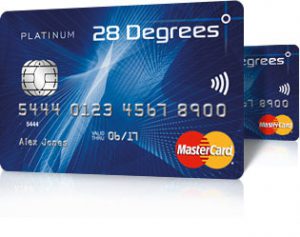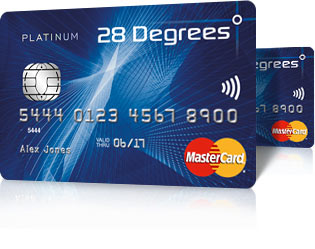 28 Degrees pros

28 Degrees cons

✅ No annual or monthly fees

✅ No foreign transaction fees - your payment is converted to AUD using the Mastercard exchange rate

✅ Repay your bill in full monthly to avoid interest or penalty fees

✅ Travel perks and partner discounts available

❌ Cash advance fee of 3% or 4 AUD (whichever is greater), plus interest, when making an ATM withdrawal

❌ Interest charges apply if you don't repay your bill in full monthly

❌ Subject to eligibility and credit checks
Pros and cons of travel credit cards to the US
Pros:
Earn rewards and discounts, or get travel perks - depending on the card you pick

Spread your costs out over a few months

Some cards have low or no foreign transaction fees

Credit cards are useful as a payment guarantee in some situations
Cons:
Interest and fees usually apply if you don't pay back your bill immediately

Cash advance and interest costs apply when using an ATM

Eligibility rules apply
Travel requirements from Australia to the US
Before you travel to the US you'll need to apply for a visa - or if you're heading there as a tourist for 90 days or less, you may be able to get an ESTA. That's a visa waiver, but you still have to apply in advance, so you'll need to be organised.
Bear in mind that medical costs in the US are notoriously high, so you'll also need top notch medical travel insurance which explicitly covers your trip to the US.
Check the government's Smart Traveller website to learn more.
Does the US accept Australian dollars?
No. You won't be able to spend AUD anywhere in the US. If you're carrying Australian dollars with you you'll need to exchange them for US dollars when you arrive.
Best currency to take to the US
You'll only be able to spend in US dollars in the US. While you can carry cash in AUD and convert it on arrival, or get some dollars in cash before you leave, for many travellers using a specialised travel card for cash withdrawals in the US as and when you need them is the easiest solution.
Top travel money tips to the US
Here are a few final tips to help your money go further while you're away:
Have several different payment methods in case one isn't accepted wherever you are

Get a travel money card before you leave to make it easier and cheaper to spend and withdraw in the US

Avoid

common travel money traps

in the US with this handy guide
How much money do I need per day in the US?
Exactly what you'll need to pay for your visit will depend a lot on what you like to do, and where in the US you'll stay. Generally the large cities which are popular with tourists can be pretty pricey - if you're visiting more rural areas it may be cheaper. To give an example, in New York, you'll find a 3 course lunch for 2 will set you back in the region of 170 AUD, and a single bus ride could be just over 4 Australian dollars. 
Do some detailed research to see how much things are likely to cost based on your plans and where you're headed, so you can plan your budget. Get more detailed cost information by country and city, from Numbeo.com.
How much does it cost to fly from Australia to the US?
Flight costs vary widely depending on where in Australia you'll leave from, the US airport you want to land in, and the time of year you'll visit the US. At the time of writing (August 2023), you can find flight deals from around 1,400 AUD return from Sydney to New York, for example.
Conclusion
There's no single best way to take money to the US. In fact, having more than one way to pay is definitely a good idea - just in case you end up in a situation where your preferred payment method isn't accepted.
A good solution for many people could be to get a travel card - such as a prepaid travel card from Wise or a travel debit card from Revolut - and to carry that as well as your regular debit or credit card as a back up. You can then use your travel card to make ATM withdrawals on arrival for those times when you need cash.
Use this guide to decide which option to take money to the US will work best for you, based on your own preferences and needs.
FAQ - Best ways to take money to the US
Should I exchange money before I travel to the US?
While you can switch Australian dollars for USD before you travel, it's actually very easy to just make a cash withdrawal at an ATM on arrival in the US. This can also be cheap, and may get you a better exchange rate compared to exchanging in advance, particularly if you have a travel card from a provider like Wise or Revolut.
Can I withdraw US dollars from a local ATM?
You can't withdraw US dollars at a normal ATM in Australia. However, you can get a travel card to make an ATM withdrawal on arrival in the US, which will often mean you pay less compared to using your bank card which might come with a foreign transaction and international ATM fee.
Are prepaid travel cards a good way to take money to the US?
Travel prepaid cards from services like Wise are a safe way to spend when abroad. With Wise you'll also get mid-market exchange rates and low, transparent fees which can bring down the costs of your trip.
Can I use cash in the US?
Yes, although in most places you'll also find card payments are OK - in larger bars or restaurants you can even use a card for tipping. In general, making sure you always have some cash in US dollars, and a travel card for spending or getting cash from an ATM, is a good choice so you have a back up plan if you ever need it.