5 Cheap and Easy Ways to Pay International Invoices
Whether you need to pay school fees, medical expenses, household bills, or business expenses, paying international businesses can be tricky. According to The World Bank, it costs on average almost 7% of the amount sent to pay invoices internationally.
Here are 5 easy ways you can reduce the cost of these international invoices and avoid some of the stress: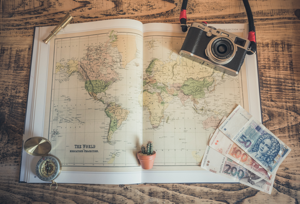 How do I pay a bill from another country?
Giving your credit card details online, or directly to someone you are paying the bill to, means you are likely to be charged a fee as a percentage from your bank or card issuer. Usually, it is between 3% and 5%. Importantly, you won't be charged an additional flat transaction fee.
When is this a good option?
Paying with credit cards can be a cost-effective way to pay for small international invoices under $200.

The pros and cons of paying an international invoice by credit card
Using a credit card is the easiest way to pay for international invoices. The biggest downside is that the bank fee is usually a percentage of your bill payment. This means for bigger payments, the fee can really add up.
2. An International Money Transfer Online
If your biller has a bank account you can pay into, an international money transfer can be a great option. You can transfer the money into their bank account using a bank or a money transfer company. They offer the most competitive exchange rates for international payments.
When is this a good option?
International money transfers are a good option for invoice payments above $200 and when the businesses you are paying provide bank details you can pay into. If you are using this method, make sure you include your international invoice or bill number on your payment so they know it's from you.
The pros and cons of paying an international invoice via an IMT
The exchange rate you get from making international money transfers is usually better than PayPal or using a credit card, but there is more work involved. Banks will often charge between $18 to $22 so, for smaller amounts especially, it can be an expensive way to pay an international invoice for smaller amounts.
Compare Money Transfer Companies
PayPal remains the world's largest internet payment company. It is very easy to set up an account and most overseas billers will accept payment from PayPal, making this a handy way to pay an international invoice.

When is this a good option?
PayPal is great to send money overseas if you already have a PayPal account with money in it. It's also a relatively cost-effective way to pay for smaller international invoices up to $200.

The pros and cons of paying an international invoice with PayPal
PayPal is very quick and easy – particularly if you already have a PayPal account.
But PayPal does charge for this convenience. They charge a flat fee and a percentage of the payment. This won't matter too much for small bill payments under $200 however there are cheaper options for larger amounts.
Related: Converting and Sending Currency via PayPal – How Does It Compare?
Some view Western Union as outdated, given the emergence of newer (and sometimes more convenient) online players, such as PayPal and Wise. But Western Union still remains a good option in certain situations.
When is this a good option?
The biggest advantage of using Western Union is their global reach. They are particularly useful if you need to send a payment to a country that doesn't have a big banking sector. Payments to some parts of South America, Africa and Asia are almost impossible through a bank but with its unparalleled global reach, Western Union can be a good option.
The pros and cons of paying a bill via Western Union
The biggest con of using Western Union is the cost. Unfortunately, there is no flat or common fee. The exchange rate, fees and charges all depend on where you are sending the money, how much you are sending and how it is being received.
Related: Western Union Review
5. Set up a local bank account
These days, most banking can be done online so it may make sense to set up a bank account in the foreign currency of the country you pay a lot of bills in.
For example, if you own a property in France and are constantly paying household or power bills in euros, it might pay off to set up a French bank account next time you are in the country. This also helps you avoid any hidden costs when dealing with the exchange rate.
Once the account is open, you can make an international money transfer to add money to the account and then use this foreign currency to pay bills as they arise.
When is this a good option?
For example, this is a great option when you are a dual citizen or when you often pay lots of bills in the same foreign currency or in the same country.
The pros and cons of setting up a local account
The biggest advantage is saving on the common fees and charges that come with paying via credit card or PayPal. It's also so much easier to pay a foreign currency bill using that currency from a local account.
The big drawback is the hassle of opening the account and maintaining a balance. This might not even be possible if you are not a resident of the country.
Compare cheaper ways to pay international invoices
Your currency knowledge centre
5 Cheaper Ways to Transfer Money Overseas
Using a bank is one of the easiest ways of transferring money overseas, but can also be the most costly. There are alternatives that can make the whole process cheaper.
International Money Transfer Comparison and Reviews
Find the best international money transfer exchange rates to send money overseas from Australia. Compare the rates and fees from leading banks and money transfer services.
How to Transfer Money Overseas from your Australian Bank Account
Transferring money overseas from your Australian bank account is simple once you know how to do it, but you might be short on time to figure it out.