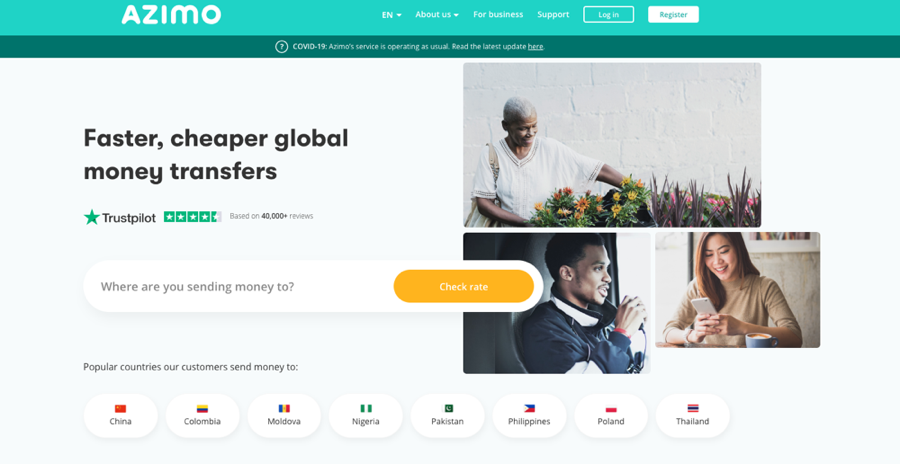 Azimo, one of Europe's leading online international money transfer services, has just launched in Australia.
A key problem in Australia is that our banks charge massive amounts to send money overseas. According to the latest World Bank data from September 2020 the average cost of sending money from Australia is 7.21%.
Azimo is looking to address this problem and even says they can halve the cost of sending money abroad from Australia.
The company aims to help Australians send money to more than 200 countries, including China, Vietnam, the Philippines and Thailand. Azimo also promise to offer competitive exchange rates, lower fees and faster speeds.
So could Azimo be your best answer to safely sending money overseas from Australia? Let's find out.
How does Azimo stack up against traditional banks?
"It's astonishing that people in Australia are still being charged around 7.5% in fees and markups on average when they send money abroad. We expect to charge well under half this amount on average."
– Richard Ambrose Azimo CEO
In the UK, Azimo currently charge foreign exchange (FX) rate markups of as little as 2% per transfer, plus a flat fee that usually ranges between £0.99 to £1.99 (A$2.00 to A$4.00) depending on which country you transfer money to.
Based on these numbers, that's less than half of the average cost of sending money from Australia. Especially given some Australian banks charge a flat transfer fee of A$10.00 per money transfer. What's more, Azimo said they will offer all new customers two fee-free transfers to try the service or the first five transfers for free if they're a business.
On this point, Australia's consumer protection watchdog, the Australian Competition and Consumer Commission (ACCC) says Australians could save up to AUD500 on a USD7,000 transfer if they shopped around for a cheaper service. You can compare Azimo (soon) with other online money transfer services using our comparison tool.
Azimo is a fast option for sending money overseas
Now we know Azimo will be cheaper, but what about speed? According to the ACCC, banks are not the only secure option and do not always offer the fastest delivery. It's well documented that when you transfer money overseas using your bank, it can take 3-5 business days. This is because they use the SWIFT network for these bank telegraphic transfers, also known as wire transfers.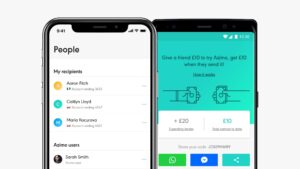 Because traditional methods of transferring money overseas are slow, Azimo focuses on technology that allows fast transfers. Around 95% of Azimo's transfers are delivered within 24 hours and cash delivery is instant to more than 50 countries.
For instance, people sending money to China from Australia will enjoy instant transfers. This is because Azimo has integrated with AliPay, China's leading payments platform. Azimo users will only need their recipient's AliPay ID to make an instant transfer in yuan.
They also boast instant transfers to Thailand and are constantly working on faster transfers to other parts of Asia.
Can you trust Azimo with your money transfer?
The company has transferred over USD1bn across the world, and has over two million customers worldwide. They are clearly trusted by many and have a proven track record for safely delivering money internationally.
Azimo is regulated and registered in all the countries it operates in, including Australia's very own anti-laundering watchdog AUSTRAC (Australian Transaction Reports and Analysis Centre). It also has security features including 3D-Secure authentication, where you enter a SMS code to access your account. All transfers are protected by the latest anti-fraud and encryption technology.
Azimo's Chief Operating Officer, Dora Ziambra said in an interview, "for me, trust comes by us delivering our promise of the money getting there when we said it would."
To this point, the Azimo app has features where users to see an estimated delivery time, as well as real-time updates on your transaction. The same like when you buy products online from a marketplace like Amazon or eBay.
But don't just take their word for it. Azimo has a Trustpilot Score of 4.6/5 stars from 43,653 reviews. Going to Trustpilot's website is good way to see how others customers review Azimo's money transfers.
How to send money overseas with Azimo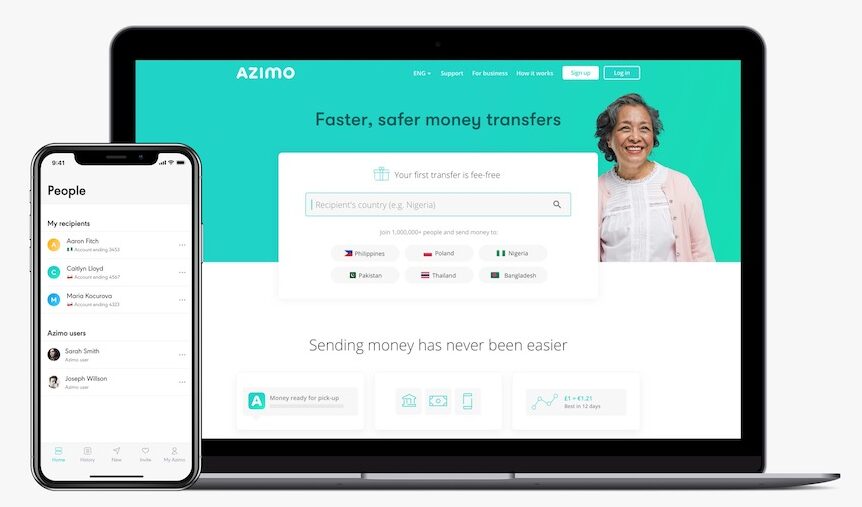 Here's what you need to do:
Set up your transfer and see how much money will arrive in the overseas bank account
Send digital copies of your ID for verification
Pass on the bank details of the person receiving your funds overseas
Pay for your money transfer using a debit or credit card or bank transfer
If you want to learn more about Azimo Australia, check out our review.
Final thoughts
We think you should give Azimo a go, especially if you're regularly sending small amounts (under A$1,000) to Asian countries. Their platform is easy to use, costs are transparent and customer reviews are mostly good.
It will be interesting to see whether they will be cheaper than the likes of other digital money transfer services already operating in Australia, like InstaReM, WorldRemit or TransferWise. If you want to compare more options head over to our international money transfers service.
Read also: