Where to Find the Best Currency Exchange Rates in the Perth CBD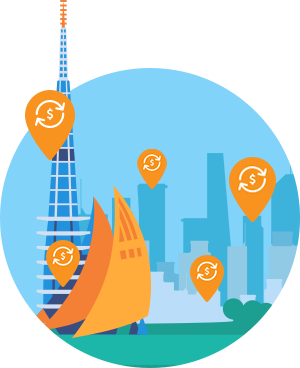 Currency Exchange in Perth
Coronavirus Update: Many currency exchange stores such as Travel Money Oz and Unimoni have temporarily closed their doors due to the COVID-19 pandemic.  If you want to exchange money in they Perth CBD, there is a good chance that all your options will be closed.
Check this page regularly for updates for when travel money stores open again.
There are so many options for you when you need to buy travel money in the Perth CBD. We at The Currency Shop, have created this CBD guide so that we can do the heavy lifting and you can focus on everything else.
Where to exchange money in Perth
There is no money changer that is a clear winner for having the best exchange rate on every currency and amount. We found a variety of fees ranging from a small percentage to a fixed rate. So make yourself aware of these when choosing a provider.
We also found that different providers exceeded with different currencies. Major currencies can generally be found in the CBD. These include US dollars, Euros or Japanese Yen. For some currencies, ordering online can still return a better deal. Especially if there isn't stock in the CBD. Your own research is pivotal.
Use our guide to find out where to buy travel money in the Perth CBD.
| Money Changer | Address | Rating |
| --- | --- | --- |
| Travel Money Oz | G5 / 110 William St | 1300 606 413 |
| Unimoni | Shop 51, 647 - 657 Hay Street Mall, London Court | (08) 6212 5301 |
| Money Change Group | Piccadilly Theatre and Arcade, Shop 2, 700-704 Hay St | (08) 9485 2263 |
| Travelex | Inside HSBC, 188 / 190 St Georges Terrace | (08) 6141 5007 |
| Commonwealth Bank | Shop 1/95 William St | (08) 9482 6325 |
| Travel Money Oz | Shop 24, London Court Arcade, 647 - 653 Hay St | 1300 614 717 |
| ANZ Bank | Allendale Sq, Ground Floor / 77 St Georges Terrace | 13 13 14 |
Some of the best service in city. Friendly, professional and no wait time. Reasonable rates, no fees and ID required for amounts over $1000.
Unimoni (formally UAE Exchange)
Friendly, professional, with some of the best exchange rates particularly for selling currency to them. There are bank limits for eftpos and photo ID is required.
The excellent range of products and currencies didn't make up for the average service. Their exchange rates are much better if you order online and pick up in-store.