Where to Find the Best Currency Exchange Rates in the Brisbane CBD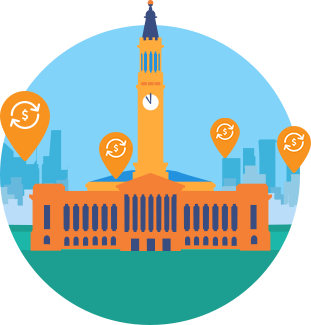 Currency exchange in the Brisbane CBD
Coronavirus Update: Many currency exchange stores such as Travel Money Oz have temporarily closed their doors due to the COVID-19 pandemic.  If you want to exchange money in the Brisbane CBD, there is a good chance that your options will be closed or have limited opening hours, especially during Christmas/New Years.
Check this page regularly for updates for when travel money exchange stores open again.
Brisbane offers a number of places when it comes to exchanging money. The money exchange stores with the best foreign exchange rates are located in Brisbane's CBD, because there is more competition between those places and you can shop around for the best deal. We've done some research and compiled important information to help you make the right choice for currency exchange in Brisbane.
Where the best currency exchange places are in Brisbane
There is no money changer that is a clear winner for having the best exchange rate on every currency and amount. There are a variety of fees, ranging from a small percentage to a set rate.
Some money changers are definitely better than others when it came to the rates they offer, but remember, different providers can have better rates for certain currencies.
Use this table to find out where and when you can buy travel money in the best places in Brisbane's CBD. Opening hours can change, so check this page regularly:
Money Changer
Address
Phone Number
Travel Money Oz
302/91 Queen St in the Myer Centre
Opening hours: Temporarily closed due to Covid-19
1300 167 668
Travel Money Oz
Shop 6, 158 Adelaide St
Opening hours: Temporarily closed due to Covid-19
1300 457 110
Travel Money Oz
Shop GL45, 149 Adelaide St in the Queens Plaza Shopping Centre
Opening hours: Temporarily closed due to Covid-19
1300 663 894
Unimoni
Lot 29/198 Adelaide St in the Anzac Square Arcade
(07) 3021 3001
Travelex
149F / 91 Queen St in the Myer Centre
(07) 3210 6325
Aus X Change
11A/255 Queen St in the MacArthur Central Shopping Centre
(07) 3194 5133
City Exchange Mart
102 Queen St in the Queen Adelaide Building
1800 501 500
Travelex
HSBC Ground Floor, 300 Queen St in the HSBC Building
(07) 3174 1018
Johnson Money Exchange
231 Albert St
0402 083 378
Lotus Foreign Exchange
Shop 36A/198 Adelaide St in ANZAC Square
(07) 3220 2881
Commonwealth Bank
Ground Floor / 46 Market St
13 22 21
The best service in Brisbane. Friendly, professional and no wait time. Reasonable rates, no fees and ID required for amounts over $1000.
Unimoni (formally UAE Exchange)
Friendly, professional, with some of the best exchange rates particularly for selling currency to them. There are bank limits for eftpos and photo ID is required.
The excellent range of products and currencies didn't make up for the average service. Their exchange rates are much better if you order online and pick up in-store.