Compare Exchange Rates to Buy Canadian Dollars (CAD)
Because every company has different rates to buy Canadian dollars (CAD) with Australian dollars, finding the best deal can be a minefield. We bring together all your options, highlight the fees and rates per money exchange, and show you the best possible deals.
Where to buy Canadian dollars in Australia?
You can buy Canadian dollars (CAD) from almost every place in Australia that offers currency exchange. It is a very popular currency to exchange to Australian dollars. Places you can make cash transactions and buy Canadian dollars include online, in-store at money exchangers, banks, Australia Post and the airport.
To find out exactly where you can buy Canadian dollars, you can use our handy city and suburb guides, just click on the links below:
What currency is used in Canada?
The currency used in Canada is dollars and represented by the symbol $.
What type of notes should I take to Canada?
Card is popular in Canada. When paying for meals, in shops and accommodation, debit card and credit cards will be accepted as well as cash. Keep smaller notes to pay for tips and transport.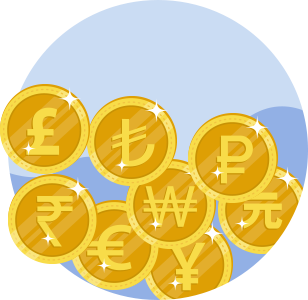 What is the cheapest way to buy Canadian dollars
The cheapest way to buy Canadian dollars in Australia is online. You'll have a couple of options, depending on what suits your needs:
Choose a specialist provider which has multi-currency accounts to support international spending - like Wise

Use an online money exchange service, and collect your foreign cash or have it delivered to you - in this case, you may pay an exchange rate markup, which is an extra fee
To be sure of the cheapest way to buy Canadian dollars, check our online currency converter calculator.
Of course, you always have the option to buy Canadian dollars at the airport. However, this is usually very expensive compared to buying your online before you head off, simply because airport exchange services know you have no other options until you get to Canada. That can mean high commission fees and very poor foreign exchange rates. 
When is the best time to buy Canadian dollars with Australian dollars?
International currency markets move all the time - which means that the exchange rate you'll get when you convert your AUD to CAD can vary from one minute to the next.
Before you travel it's worth keeping an eye on the [currency] exchange rate so you have an idea of how far your dollars will go while you're away. You can use a simple Google search, or a rate tracker, which lets you set a desired exchange rate so you can buy when the market is favourable.
How to buy Canadian dollars in Australia?
Let's take a look at how to buy Canadian dollar (CAD) online - either with a specialist provider, or online money exchange service.
To buy CAD online with a specialist provider that offers multi-currency accounts or travel cards, you'll usually need to:
Head to the provider's website or download their app

Hit Sign Up, add your personal details and create a password

Get verified by uploading images of your ID documents - you might also need a proof of address

Add some money to your account in AUD, for spending later
Depending on the provider you pick, you can order a linked international debit card to spend while you're away, or you can convert to the currency you need to make online payments. Some providers can issue you a virtual card instantly for online spending, and once you have your physical card you can withdraw cash as you travel for convenience.
To buy CAD for cash spending with an online money exchange service, you'll usually need to:
Visit the provider's website, and place an order for your currency

Decide if you want to have your money delivered, or collect your cash at an agent location

Make payment for your foreign currency in AUD

When you collect your cash, or when it's delivered you'll need to show a valid ID document
Where to exchange Canadian dollars before your trip
You don't necessarily need to exchange your dollars to Canadian dollars (CAD) before you travel - but if you'd like to, you probably have a couple of different options. We'll look at some of these in a bit more detail next:
Buy cash at a local money exchange service

- this can be fairly expensive, but you'll know you have some money in your pocket when you arrive

Order foreign currency cash online for collection or home delivery

- exchange rates may include a markup, but this can be a convenient service if you need cash before you leave

Get a multi-currency account and travel debit card

- you can top up in AUD and convert to the currency you need in your account, then make a cash withdrawal at the airport in CAD so you hit the ground running. This can mean lower fees and a better rate compared to getting cash before you leave Australia 
If you have a multi-currency account and card, you might find there's no need to convert your AUD to a foreign currency at all, and you can still get the benefits of using a specialist provider -  including lower fees and better overall rates. With the Wise account, for example, you can top up in AUD and spend with your card. The autoconvert technology will switch to the currency you need with the live Google exchange rate and the lowest available fee. Or, you can switch to Canadian dollars in your Wise account before you leave, so you know your exact budget in CAD in advance.
How do I get the best exchange rate online?
The good news is that it's usually pretty easy to compare online currency exchange services, so you can make sure you're getting the best exchange rate out there. One option is to simply use our currency exchange comparison tool which highlights some of the best deals on the market for convenience. 
Or you can pick some providers you like, and head to their websites directly. You'll usually be able to see live exchange rates, and you can often generate an instant quote which tells you how much you'll get in CAD for your AUD.
Do I need to take cash in Canada?
Carrying cash is not necessarily the most convenient, practical or secure option when you travel to Canada. Unless you're headed somewhere very remote, you're likely to be able to find an ATM to withdraw cash when you need it, which can reduce the risk of loss or theft.
That said, having a few different ways to pay when you're away always makes sense. Many people feel most comfortable holding a small amount of cash, plus one or two of the following payment methods:
Travel debit or credit card
Pack a travel debit or credit card, and you could get lower overall costs of spending - or a higher rate of rewards when you're away. Different cards have their own features and fees - but travel cards tend to be issued on global networks like Visa and Mastercard for optimal coverage.
Multi currency accounts
Multi-currency accounts let you hold a balance in a selection of currencies, for overseas spending. Some also come with linked payment cards which can be even more convenient, as you'll be able to switch your AUD to the currency you need and then spend while you're away, usually with no extra fees to pay.
Where to get foreign currency outside Australia?
The easiest way to exchange your AUD while you're away is to get a multi-currency account which you can top up in AUD digitally, with a card or bank transfer. You can then switch the AUD balance to the currency you need using the provider's app. Choose a provider like Wise, and you can get a linked debit card, so you can add money in AUD, and then withdraw in the currency you need using an ATM wherever you are in the world.
The best place to exchange currency before the trip ends
If you find you need more money while you're away you could head to a local money exchange service - but in this case you'll likely face pretty steep fees, and the exchange rates may also include extra costs. An alternative is to make a cash withdrawal wherever you are. If you use your normal bank debit card you might find you pay an extra fee for the currency conversion, plus an overseas ATM charge. However, if you get yourself a travel debit card before you head off overseas, you might be able to dodge these fees entirely.
Where can you exchange currency for free?
It's not usually possible to exchange currency for free. Even where a provider says there's no commission or fee, this usually only refers to the upfront service fee, which might be waived to encourage customers to pick that service. However, in this case, the chances are that the fee you pay is simply rolled up in the exchange rate you're given, pushing up prices overall. Instead, look for a provider which uses the mid-market exchange rate with no markup, and transparent fees - so you can see exactly what you're paying easily.
Your currency knowledge centre
4 Expert Australian Dollar Forecasts for 2021 Compared
Forecasts for the Australian Dollar from bank experts are revised throughout the year. This article looks at the different outlooks and is updated regularly.
How to Buy Currency: Online Versus In-Store
Buying travel money online is one way to reduce stress and potentially save time – but are there any disadvantages you need to be aware of?
The Ultimate Guide to Currency Exchange in Australia
There is no single way to exchange currency that is always the cheapest. It really depends on what currency you are buying, how much and where you are.