1st Contact Forex 2018 Review
1st Contact Forex is an international money transfer service you can use without visiting a bank. It is part of the 1st Contact group of companies and has headquarters in London.

1st Contact was founded in 1995 to help South Africans and Australians who had moved to the UK with taxes and accounting concerns. The Forex division, founded in 1996, provides non-bank foreign money transfers. The company's other divisions offer accounting, tax, visa and shipping services.
With over 50,000 registered clients and 120,000 transactions per year, 1st Contact Forex is a trusted choice for international money transfers.
This 1st Contact Forex review is designed to give you an overview of the company's overseas money transfer service. The information will help you make the appropriate decision regarding what company to use when you need to transfer money internationally.
Pros
"Refer a friend" promotions
Lower rates than banks
No minimum or maximum transfer amounts
There's no charge for every fifth transfer
Cons
Recipient can't pick up transfer as cash
Transfer and process time is slower than established services
Must enter information twice when using internet banking to pay for transfer
How it Works
Register for a 1st Contact Forex account online at the company's website. It takes a few minutes to fill out the application, and you don't need to use the account after you've registered.
You'll receive an email asking for scanned copies of your passport and proof of your physical address. Once the company has received and approved this information, you can make your 1st international money transfer request.
To send a money transfer, login to your account. Enter the amount you want to send, the currency, and the beneficiary's address, email, and other information. Pay for the transfer, and once 1st Contact receives the money, the request will be processed.
1st Contact transfers take a bit longer than foreign money transfers offered by a bank to the bank's account holders. The company must receive all the necessary documentation and funds must clear before it can send the money. It takes one to three business days for converted funds to arrive in the recipient's account.
How Safe is It?
The 1st Contact Forex website is protected by a Secure Socket Layer (SSL) 128-bit encryption to keep your information safe as it is being sent to the 1st Contact servers.
How Much Does It Cost?
1st Contact Forex has currency exchange fees based on the amount of the transfer and the destination.
What Exchange Rate Will I Get?
As an independent service, 1st Contact Forex offers lower exchange rates than banks. The website features a drop-down menu to compare rates for any currencies you choose. You can check recent performance for currencies from different countries.
Large transfers receive better rates than smaller amounts. If you transfer 10,000 Pounds or more, 1st Contact will transfer the money free of charge after you have supplied appropriate documentation. Secure an even lower rate in advance by paying a 10 percent deposit. As soon as 1st Contact Forex receives your deposit, the company locks in the quoted rate.
How Do I Send or Receive Money from Overseas?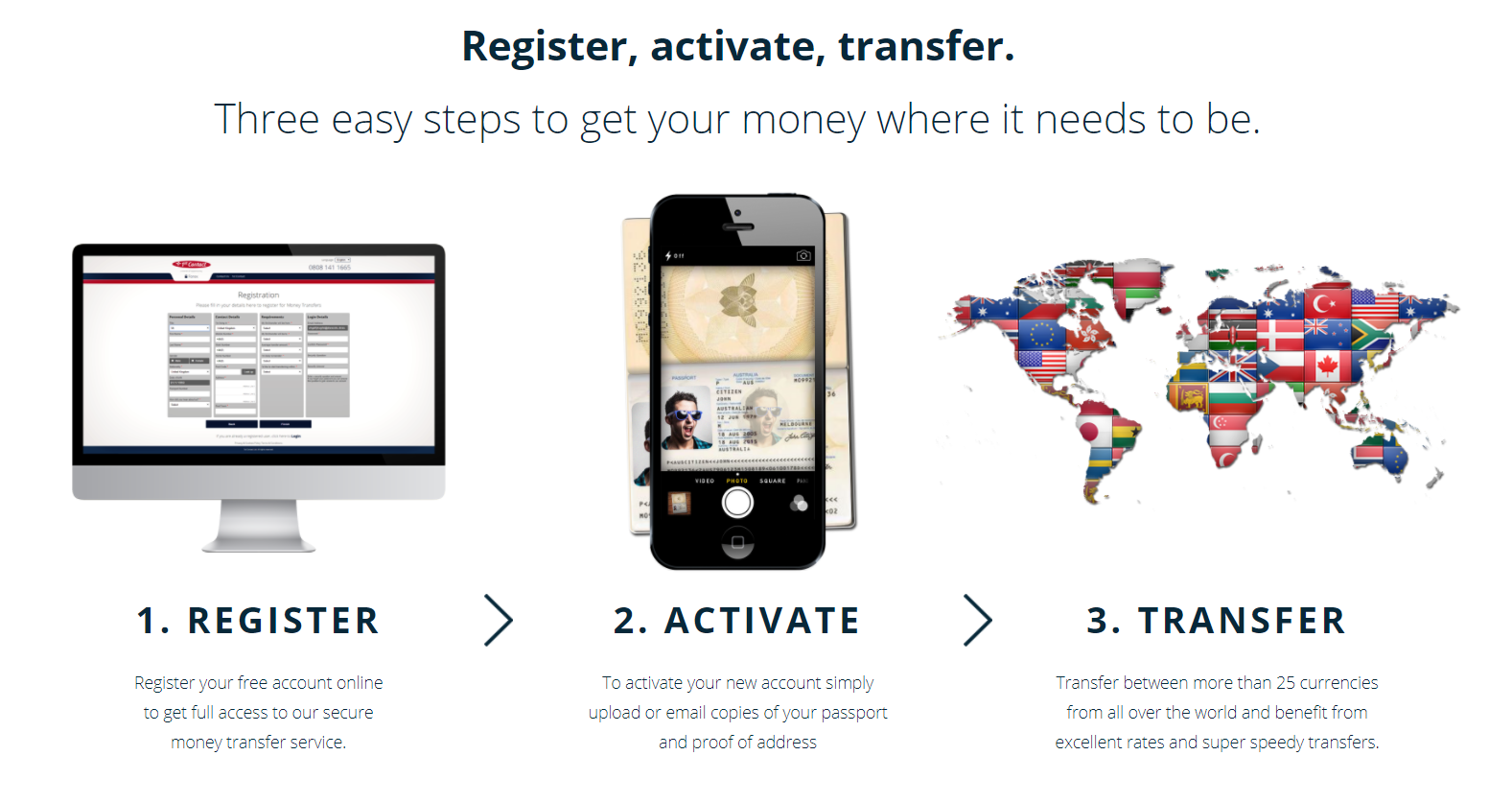 Enter the amount to be transferred and your debit card information on the 1st Contact Forex website. Input the destination and the beneficiary bank account details and review it for accuracy. You can complete the transaction on the 1st Contact website. You don't need to go to a third-party site.
Your money is immediately transferred from your debit card account to the 1st Contact Forex account. A low exchange rate is secured for you at this time.
If you transfer money through your internet banking account, you'll need to go through an extra step to complete the transaction. First, you'll enter the amount of money to be transferred, the recipient's name, destination, and the date the transfer should arrive on the 1st Contact Forex site.
Then, complete the second step by logging into your online bank account and transfer the selected amount to the appropriate 1st Contact account.
The information for the 1st Contact client account will appear when you enter the transfer details on the site. Your name and surname are the payment reference.
Funds will process quicker when you use your name and surname as a payment reference. If you use an identifier other than your name and surname, you should email 1st Contact and let them know what name should be used for cleared funds. Clarifying the name will prevent delays.
How Do I Pay?
Pay for your international money transfer by UK debit card and internet bank accounts. You must use your name and surname when paying with internet banking. If not, proof of payment must be supplied before funds are transferred.
Can I Pay by Credit Card?
The 1st Contact Forex website states you can pay by UK debit card, but there is no mention of paying by credit card.
What Currencies Can I Transfer?
You can transfer the following currencies with 1st Contact Forex:
South African Rand, British Pound, Bulgarian Lev, Danish Krone, Australian Dollar, Canadian Dollar, Czech Koruna, Japanese Yen, New Zealand Dollar, Norwegian Krone, Kenyan Shilling, Israeli New Sheqel, Hungarian Forint, U.S. Dollar, Turkish New Lira, Thai Baht, Swiss Franc, Swedish Krona, Singapore Dollar, Polish Zloty, Romanian Leu, and the Qatari Riyal.
Use a currency converter to research what the transfer will cost. Call or email 1st Contact customer service if there is another currency you would like to transfer. They may be able to accommodate you.
What Services Do They Offer for Businesses?
Low rates for large money transfers may be of interest to businesses that need to send funds overseas often.  Transfer requests of 10,000 Pounds or more must be accompanied by documentation, such as a bill of sale, pay slip or a loan agreement. Once documentation is provided, the transfer can be processed.
Other Features of Note
When you review all the features of a 1st Contact Forex international money transfer, keep in mind that the company offers promotions, including 10 Pounds in cash every time you refer a friend who uses the service. There's also a loyalty programme which gives you every fifth standard money transfer for free. (Transfers from South Africa are excluded.)
Compare the 1st Contact Forex features with reviews of other services to determine the best one for your needs. There are many overseas money transfer resources available to help you if you are confused about how the exchange works.
Compare money transfer companies like 1st Contact Forex
The best deal for you
Read Review

Total (AUD)

$13,985.19

Exchange Rate

1.4049

Transfer Fees

$45.42

Transfer Time

1-2 Days

Learn More

Total (AUD)

$13,985.19

Rate Updated just now

So, sending 10,000 USD to Australia comes to $13,985.19 including $45.42 in fees

GO TO SITE

So, sending 10,000 USD to Australia comes to $13,985.19 including $45.42 in fees

About TransferWise

Transparency and an easy online experience are the 2 things that set TransferWise apart from the banks and other money transfer companies. If you prefer to bank online, you'll like TransferWise. Setting up an account and making a transfer is very easy. They are also very clear on the exchange rate and fees you'll pay before you make a transfer.

Click here for the full review

Pros

Clear and transparent exchange rates fees
The online experience is first class
Like the banks, they are regulated by ASIC and registered with AFSL
Constantly bringing out new innovative products

Cons

There are currently a number of global currencies they do not currently support
Limited support based in Australia
Percentage based fee can add up on very large transfers
More trusted money transfer options
Provider

Exchange Rate

Transfer Fees

Transfer Time

Total (AUD)

Rate Updated

just now

Read Review

Total (AUD)

$13,981.56

$3.63 more expensive

Exchange Rate

1.3982

Transfer Fees

$0.00

Transfer Time

2-3 Days

Get discounted rate

$13,981.56

$3.63 more expensive

GO TO SITE

So, sending 10,000 USD to Australia comes to $13,981.56 with no fees.

About XE

XE is a well known and trusted name in the money transfer industry. With over twenty years experience, they now help 33,000 people and 2,000 businesses make transfers each year. Over 60 currencies can be transferred with XE and they pride themselves on the free tools and transparent rates they offer.

Click here to read the full review

Pros

Well known and trusted brand.
Very informative website. Extensive information on currency and money transfers.
XE App is available on both iOS and Android. It allows you to see the interbank rate for over 100 currencies.
XE themselves charge no fees for international money transfers.
Offers support for both individuals and businesses when it comes to international money transfers.

Cons

Cannot pay via cash or cheque. Must pay via bank transfer, BPay is also accepted in Australia.
Maximum transfer amount is $500,000USD.
While XE compares more than 100 currencies, there are only 60 that are available for money transfers.

Read Review

Total (AUD)

$13,978.76

$6.43 more expensive

Exchange Rate

1.3979

Transfer Fees

$0.00

Transfer Time

2-3 Days

Get discounted rate

$13,978.76

$6.43 more expensive

GO TO SITE

So, sending 10,000 USD to Australia comes to $13,978.76 with no fees.

About TorFX

TorFX are particularly good taking care of customers over the phone but using their website isn't the easiest to use. They don't charge a flat fee which is great but it's important to consider their exchange rates. While, they don't offer fantastic rates for small amounts under $2000 , TorFX offer exceptionally good exchange rates for larger transfers to the UK, New Zealand, South Africa and Europe.

Pros

No transfer fees
Highly competitive exchange rates
Secure transfers with authorised
Assigned account manager
24 / 7 Assistance
Available range of transfer options

Cons

Limited exotic currencies available
Exchange rates on small transfers aren't great
Website experience could be better

Read Review

Total (AUD)

$13,964.71

$20.48 more expensive

Exchange Rate

1.3965

Transfer Fees

$0.00

Transfer Time

2-3 Days

Get discounted rate

$13,964.71

$20.48 more expensive

GO TO SITE

So, sending 10,000 USD to Australia comes to $13,964.71 with no fees.

About World First

World First was founded in 2004 in the UK and has grown rapidly with offices now in the U.S., Canada and throughout Asia. They consistently receive strong customer reviews and in a recent study, 98% of their clients said they would use them again.World First have a strong online offering, particular for businesses selling online. They do provide local support as well with offices in Sydney.

Click here to read the full review

Pros

No fees and great exchange rates
Safe and secure transfers
Regulated by ASIC and registered with AFSL
Great for personal and business payments

Cons

Does not accept BPAY, credit card, cheque or cash
Limited currencies available

Read Review

Total (AUD)

$13,839.08

$146.11 more expensive

Exchange Rate

1.3846

Transfer Fees

$5.00

Transfer Time

1-3 Days

Get discounted rate

$13,839.08

$146.11 more expensive

GO TO SITE

So, sending 10,000 USD to Australia comes to $13,839.08 including $5.00 in fees

About OFX

OFX (formally known as Ozforex) is the largest Australian owned money transfer company. It launched in 1998 and grew rapidly until finally listing on the Australian Stock Exchange in 2013. OFX excels in 2 areas – Online experience and customer service. The company was born online and continues to develop easy, intuitive products. While OFX customers do most of their transactions online, they are backed up with exceptional customer service.

Pros

Better exchange rates compared to banks
Highly safe and secure transfers
1 - 2 days delivery times for most countries
Quick response time
Fantastic customer service

Cons

Credit cards, cheques and cash are not accepted
Transfers to Thailand can take up to 4 days
Fees for transfers smaller transfers

Take into account that we have not compared absolutely every bank and company in Australia. We compare the large, safe and reputable banks and foreign exchange companies that we have already researched, tested and approved. We also may receive a referral fee if you choose one of these banks or companies, but that wont affect the exchange rates or fees you get.