Cheaper Ways to Send Money to Ukraine from Australia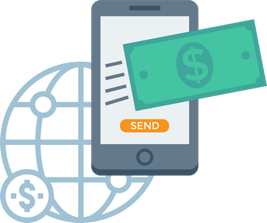 Transferring money to Ukraine from Australia can be hard.
There are lots of companies who say they'll send your money, but once you drill down you find their options are limited. We inform you on how you can transfer money to Ukraine in a simple, fast and safe way, using the best money transfer companies.
Some of the best money transfer services to send money to Ukraine from Australia

OFX
OFX (formerly Ozforex) was founded in Australia and has grown into a well-respected global company. With headquarters in Sydney, it has a good track record for security.
They are a good option for Australians who don't mind transacting online, but still want local customer support over the phone.
How much does it cost?
Transfer Fee: OFX usually charge a flat fee for smaller amounts, but if you click on the link below, your transfers will be fee free.
Exchange Rate: OFX add a margin to the exchange rate when you convert your Australian dollars into Euros.
Minimum Transfer Amount: AUD$250
How long does it take?
Your recipient will get the money in Euros into their account in 1-2 business days.
Is OFX safe?
Yes they are. See our full review of OFX for more information.
Best features:
Good exchange rates and lock-in rate for larger amounts
Local phone support
Mobile phone app
How to transfer money with OFX
Create a free online account and login to get a live quote for your transfer.
Enter your recipients details including bank account, financial institution number, account number and branch transit number.
'Finalise transaction' and pay using a bank or wire transfer.

Wise (formerly known as TransferWise)
If you prefer to transfer money online, Wise is one of the easiest ways to do it. It's incredibly simple to set up an account or make a transfer using their app. They also have the best exchange rates, because they offer the same market rate you see on XE or Google and don't add any hidden exchange rate mark ups.
How much does it cost?
Transfer Fee: Depends your amount.
Exchange Rate: Wise gives you the best possible rate (google rate). They do not use a margin.
Payment methods: Bank transfer, debit card and credit card.
Is Wise safe?
Yes they are. Click here to see our full review of Wise.
Best features:
Quick online set-up
Transparent fees and offer the best rates online
Very fast transfers to a bank account
Simple cell phone app
How to transfer money with Wise
Create an online account and login.
Tap in how much and where to. Enter your recipients details.
Make a local payment to Wise, using a bank transfer or your debit or credit card.
Service details:
Your currency knowledge centre
5 Cheaper Ways to Transfer Money Overseas
Using a bank is one of the easiest ways of transferring money overseas, but can also be the most costly. There are alternatives that can make the whole process cheaper.
International Money Transfer Comparison and Reviews
Find the best international money transfer exchange rates to send money overseas from Australia. Compare the rates and fees from leading banks and money transfer services.
How International Money Transfers Work
When sending money overseas, you've got heaps of options. One of the most popular is through an "International Money Transfer". This is a financial service offered by most banks that gives you a simple, safe and convenient way to send money overseas.
General advice: The information on this site is of a general nature only. It does not take your specific needs or circumstances into consideration. You should look at your own personal situation and requirements before making any financial decisions.