Cheaper Ways to Transfer Money to Albania from Australia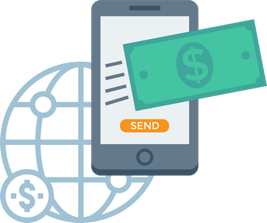 Transferring money to Albania from Australia can be hard.
There are lots of companies who say they'll send your money, but once you drill down you find their options are limited. We inform you on how you can transfer money to Albania in a simple, fast and safe way, using the best money transfer companies.
Some of the best money transfer services to send money to Albania from Australia

Remitly
Remitly is an easy way to send money from Australia. They have a highly rated mobile app and accept credit and debit cards.
When sending cash to family or friends overseas, Remitly have an "Express" option which is faster but has higher fees. If you are not in a hurry, their "economy" service is only marginally slower but much cheaper.
How much does it cost to transfer funds to Albania?
Transfer Fee: The fee for "Economy" is $2.99 but if you want the money sent faster, their "Express" fees range between $2.99 to $29.99 depending on your amount.
Exchange Rate: The exchange rate you receive depends on the amount of your transfer and which country your money is being sent.
How long does it take?
It depends on which service you choose. It's faster with "Express" but you have to pay by card and the fees are higher. It's slower but cheaper with "Economy" when you pay by bank transfer.
Is Remitly safe?
Yes they are. They are fully licensed and authorised.
Best features:
No minimum amounts
In many destinations, the person you are paying can receive their money transfer by bank deposit, cash pick up or mobile money.
Money back guarantee if your money doesn't arrive on time
How it works
Log into the Remitly website.
When you're ready for payment, just type your name, card number, expiry date and card verification details.
Confirm your details.
Service details:
For help from Remitly email service@remitly.com or call (02) 8607 8054 from within Australia

Wise (formerly known as TransferWise)
If you prefer to transfer money online, Wise is one of the easiest ways to do it. It's incredibly simple to set up an account or make a transfer using their app. They also have the best exchange rates, because they offer the same market rate you see on XE or Google and don't add any hidden exchange rate mark ups.
How much does it cost?
Transfer Fee: Depends your amount.
Exchange Rate: Wise gives you the best possible rate (google rate). They do not use a margin.
Payment methods: Bank transfer, debit card and credit card.
Is Wise safe?
Yes they are. Click here to see our full review of Wise.
Best features:
Quick online set-up
Transparent fees and offer the best rates online
Very fast transfers to a bank account
Simple cell phone app
How to transfer money with Wise
Create an online account and login.
Tap in how much and where to. Enter your recipients details.
Make a local payment to Wise, using a bank transfer or your debit or credit card.
Service details:

WorldRemit
WorldRemit specialise in remittances and smaller transfers. They're perfect for personal money transfers from Australia up to AUD10,000 to Albania. Their rates are usually better than Australian bank's like ANZ or Commonwealth Bank. They offer more flexible delivery options than companies like PayPal, Western Union or MoneyGram.
How much does it cost?
Transfer Fee: Starting from AUD3.99 for small amounts
Delivery: Airtime Top up
How long does it take?
Most transfers are completed within minutes.
Is WorldRemit safe?
Yes they are. Learn more about how trustworthy WorldRemit are.
Best features:
Offers cash pick-up, bank deposits, Mobile Money and Airtime top-up in some countries
Easy online platform and cell phone app
Transparent costs with accurate calculator tool
24/7 customer support
How to transfer money with WorldRemit
Enter how much you want to send overseas and your delivery method
Create an account by entering in your details
Make local payment to WorldRemit, using a bank transfer or your debit or credit card.
Your currency knowledge centre
5 Cheaper Ways to Transfer Money Overseas
Using a bank is one of the easiest ways of transferring money overseas, but can also be the most costly. There are alternatives that can make the whole process cheaper.
International Money Transfer Comparison and Reviews
Find the best international money transfer exchange rates to send money overseas from Australia. Compare the rates and fees from leading banks and money transfer services.
How International Money Transfers Work
When sending money overseas, you've got heaps of options. One of the most popular is through an "International Money Transfer". This is a financial service offered by most banks that gives you a simple, safe and convenient way to send money overseas.
General advice: The information on this site is of a general nature only. It does not take your specific needs or circumstances into consideration. You should look at your own personal situation and requirements before making any financial decisions.